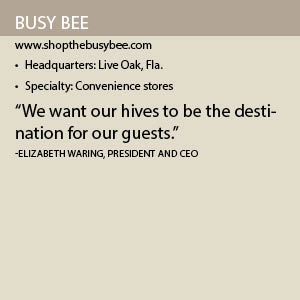 The chain often co-brands with fast food giants like Burger King, Dunkin' Donuts, Hardees and Subway, and gas stations such as Shell and Marathon. Its own branding extends to a variety of gourmet food products that include Bee Bits, Buttah Bees, Cinn-A-Bees, Bee-f-jerkey, Bee-r-Hive and a variety of jellies, sauces, mustards and jars of honey.
Beloved Bee
Due to popular demand for its products, Busy Bee launched a new website two years ago that allows its customers to order online. "Our customers are brand loyal," says Megan Forcey, director of advertising. "They kept requesting our products.
In addition to gourmet foods and snacks, Busy Bee sells an assortment of unique accessories, jewelry, home décor, t-shirts, baby items and gifts. "We cater a lot to females so our gift section is very accommodating to them," Forcey says. "We like to have things that are different, that you wouldn't see in another store. We have a really fun product line."
Last year, the company launched a new phone-based rewards program that allows it to communicate with its loyal customers on a more intimate level. Using email or text, the system alerts customers if they have received a reward when they are entering or leaving a Busy Bee store. These rewards can include buy one get-one-free sodas, discounts on snacks and a free bag of Bee Bits.
Technology is an increasingly important part of its business, and Busy Bee last year rolled out EMV readers at all of its stores. In addition, its store and filling station in Live Oak, Fla., have added 12 Tesla superchargers and plan to add them at other locations in the future.
Beeing Loyal
Busy Bee attributes much of its success to a loyal customer base. "We have so many guests that go out of their way to get to our locations while on the interstate," Forcey says. "In addition to our guests, our employees also take their representation to our brand very seriously and have a strong sense of accountability."
Busy Bee's strong family culture stems from being a third-generation business. When recruiting new employees, it generally looks to family and friends for referrals – though it also uses social media. Many of its current employees have been with the family for more than 20 years, with some even longer.
"I believe that success is measured many ways in our business," Waring says. "Our teammates choosing to serve in our company over 40 years is one measure of success. It's certainly a crowning achievement for us."
Though the Busy Bee brand has only been in existence since 2009, Waring and her family have been in the c-store and fuel business since 1935, when her grandfather started delivering fuel to businesses in Madison, Fla. Her father got into the business in the 1950s when convenience stores started becoming popular in the United States.
Though her mother and father, Jackie and Kin Johnson, are now technically retired, they remain involved in the business on certain consulting levels. Waring's husband, Lucas Waring, is the company's CFO and her sister Mary Bess Wilson is a stockholder. Her belated brother, Jay Johnson, is the former president of the company. When it comes to management style, positive reinforcement has been the method preferred by Busy Bee. "We are rooted and grounded in faith and this firm foundation has taught us the values that we apply every day to our Busy Bee culture," Waring explains. "It's the golden rule."