Not only that, but the store works with local schools and gives to various charitable organizations. Every Saturday and Sunday, he adds, Seaside Market will have a barbecue event in front of the location where it grills food and plays music. The store also has a Taco Tuesday special.
"It's all about creating an atmosphere where people want to come and hang out for a while," he says. "We're a destination for a lot of folks."
Brothers John and Pete Nager opened the market in 1985 and over the years, it has grown to cover 19,500 square feet, with a selection of high-end products. "We're really known for our meat department cuisine, gourmet cheese department and our wine selection," Muleady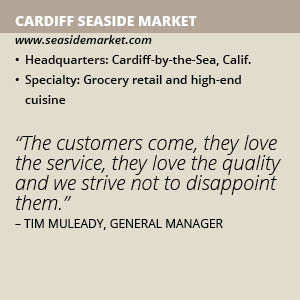 says.
The latter, he notes, features product from many boutique wineries. "A lot of people come to us looking for something a little special and a little different," he says. "That is our niche."
Best Sellers
Among Seaside Market's many selections, its most popular item is its burgundy pepper tri-tip roast. "It's a real phenomenon," Muleady says, noting that it has even earned the nickname "Cardiff crack."
When a customer came in, "He said, 'This stuff is just like crack and I can't stop buying it,'" Muleady says, adding that the client gave it the moniker. "We ship it all over the country and that's what this store is known the most for."
He also highlights its service deli cuisine, which features items made from scratch. "We also have paleo and vegan items in that case," Muleady says. "People grab them, take them home and heat them up."
The deli cuisine also reflects the freedom Seaside Market has as an independent retailer. "If we see there's a trend or a good idea, we jump on it immediately [and] can get it out ahead of some of the larger competition," he says. "We don't have the red tape or hurdles to get over."
A Seaside Family
A 47-year veteran of the grocery industry, Muleady joined Seaside Market last year. "This is the best stop in my career," he says, noting that he focuses on motivating and taking care of its employees.
"I treat everybody the way I want to be treated," he says. "What's made it successful are the people who work here and take ownership for this store."
This philosophy fits in well with Seaside Market's family oriented culture, which has nurtured employee longevity. "We have folks that have worked here for 20-plus years," Muleady says. "John and Pete treat everybody like family."
This treatment also extends to the customers. "The employees know the customers by name and vice versa," he says. "It has a friendly neighborhood feel to it."
For Muleady, this feels distinctly different from the major grocery chains he used to work for. "It's a throwback to what it used to be," he says. "The customers come, they love the service, they love the quality and we strive not to disappoint them."
He sees great things ahead for Seaside Market in the niche that it has established. "It's hard for any competitor to duplicate it and what we do," he says, noting that the company is willing to pay extra to offer the level of product and services it provides.
"People have a different experience here than going into Costco, Vons or Ralphs," he says. "It's got a whole different feel to it."
Key Traits
Seaside Market looks for personality in its employees when hiring. "We're looking for people that will fit in with our team," Muleady says. "That is really important."
The store also values skill sets in multiple areas. For example, for its gourmet cheese department, "We always look for folks that have some prior experience," he says, noting that the same is true for its cuisine departments.
Currently, it has six chefs on its staff, who are not only responsible for making meals from scratch, but also creating them and finding new items that it can bring to its customers. "We're looking for people with those types of specialties," he says.