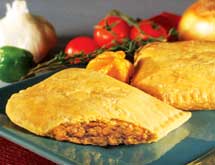 The desire to share the tastes of Jamaica earned this entrepreneur millions and a chance to share his wealth with others. At his first US job, Vincent HoSang earned $1.60 an hour. Today, he's president and CEO of Caribbean Food Delights, a multi-million-dollar Caribbean food manufacturing and distribution organization with more than 70 employees.
Caribbean Food Delights' beginnings were almost as humble as HoSang's. Because he and his wife, Jeannette, didn't have a great deal of business experience in the US, they acquired Chicken Delight, a fast food restaurant in the Bronx, in the late 1970s. They gave the store a facelift and improved the meals with the intention of introducing Jamaican cuisine to the public.
"Our main goal was to produce the Jamaican patty, which shouldn't be confused with a hamburger patty," said HoSang. "A Jamaican patty is actually a turnover." The company started out using the traditional beef filling and today offers 10 flavors, including chicken, vegetable, soy, shrimp, and spinach.
Jamaican patties are a staple in Jamaica and are primarily eaten as a lunch item. At the time, an influx of Jamaican and other Caribbean nationals came to the US, and the market for such a product grew quickly. Two years after buying Chicken Delight, HoSang and his wife bought a 2,500-square-foot bakery in the Bronx and named it the Royal Caribbean Bakery.
"The Jamaican patty was very popular, but so were Jamaican breads and cakes," said HoSang. "As a result, we outgrew our second location in a very short amount of time."
The next level
In 1983, the company leased a 15,000-square-foot bakery with two levels, one for RCB and the other for production of the Jamaican patties. However, the Department of Sanitation wanted the property for its garage, forcing HoSang and his business to relocate. HoSang refers to this as a blessing from God.
"Even though we hadn't fully occupied that entire building, it was still too small for us," he said. "When we left that property, our real estate broker found us a larger building in Mount Vernon."
With the help of his bank, HoSang bought the 20,000-square-foot property and renovated it to USDA specifications. In 1984, Caribbean Food Delights was incorporated, and in 1993, the company had grown large enough that it needed to move into an even bigger facility, this time a 73,000-square-foot facility in Tappan, NY where it currently operates.
The move prompted an upgrade in the size and scope of the company's customer base. In addition to supplying a few of its own retail outlets, Caribbean Food Delights supplies club stores such as Sam's Club, Costco, and BJ's, which prompted yet another expansion in 2007.
The company added 30,000 square feet to its facility, 25,000 square feet of which houses a new line of mixers, sheeting and packaging equipment, an oven, an X-ray, and wrapping machines. The company also installed a holding freezer that holds 30 trailer loads of product. HoSang said the expansion costs totaled $17 million.
"It was a blessing that we acquired this property because if we hadn't, we wouldn't be able to supply all of these big chains," he said. "We have a state-of-the-art facility here, and we continue to expand and make ourselves more efficient."
Shot in the arm
Caribbean Food Delights' rapid expansion and need for automation hasn't impacted the quality of its products, and HoSang remains hands-on in the production process. The company keeps three food-science people on staff, including one of HoSang's daughters.
"I oversee the spice mix with one of my food science people," HoSang said. "We don't give it to other workers to put the spices together. We double-check each other."
The company's ability to deliver a quality product has made it a popular brand even outside the US. In addition to distributing to the Caribbean Islands, in early 2009, Caribbean Food Delights began shipping to England. "Many Caribbean people have migrated to the UK," said HoSang. "As a result, our product is popular overseas."
On its home turf, Caribbean Food Delights continues to expand its distribution footprint. Originally, the company's product was available in 380 Walmart stores nationwide. Recently, that number increased to more than 1,200—something HoSang calls a "big shot in the arm."
He doesn't see more plant expansion in the company's future, but he does see the potential to expand his workforce by adding a second shift and another 40 employees. "We have great employees and managers here already," HoSang said. "It would be nice to be able to expand our company family."
Giving back
It's been decades since HoSang came to the US, but he has never forgotten his roots. Now as one of the largest Jamaican manufacturers of food in the US, he believes it's imperative to give back to show support for those who supported him.
"We believe in education, and we believe in healthcare," he said. "We believe in helping the less fortunate, so we show our support here in the US and in Jamaica."
In addition to offering six scholarships for entrepreneurs, Caribbean Food Delights had a medical bus clinic built in Ohio. The 30-plus-foot vehicle has two examination rooms, one for a doctor and another for a dentist. The company donated the bus to a Jamaican dentist in the Bronx, and twice a year, the doctor gathers up doctors, volunteers, and nurses and travels to Jamaica to offer free care.
The company also donated $230,000 to Father Ho Lung to build a home in Jamaica for abandoned children, single mothers, people living with AIDS, and the less fortunate.
Fifteen years ago, the company got involved in the Penn Relays, a yearly event hosted by the University of Pennsyl-vania that gathers athletes from the US and Caribbean Islands to compete in track and field. Caribbean Food Delights feeds the athletes from Jamaica three meals a day for three days. This year, HoSang said the company fed more than 500 students as well as some locals and friends who came by the booth.
"I used to make $60 a week and take home $49," said HoSang. "When I look back on my life, I know the Lord has blessed me and my family. It's nice to give something back, and we will continue to do that as long as we can."