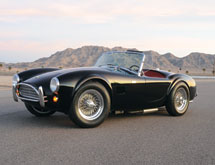 The life of Carroll Shelby, that farmer turned icon, may soon be told on the big and small screens. His life was recounted by Wallace A. Wyss in the 2007 biography "Shelby: The Man, The Cars, The Legend," which provided the base for the in-production drama miniseries, "The Drivers."
Spearheaded and funded by Fremantle Media Enterprises and jointly produced by Scott Free Inc., Headline Pictures and Sennet Entertainment, "The Drivers" centers on the famed 24-hour Le Mans motor race during the 1950s and 1960s.
The story of Le Mans, pitting the speed and power of Ferrari and Ford against one another, is also the backdrop for a proposed Michael Mann-directed movie by Fox titled "Go Like Hell." Based on an A.J. Baime's book, the movie just may fill in some of the gaps on Shelby's road from the coop to the track.
These independent entertainment investments prove it was an interesting road, for sure. But through his own personal work, Carroll Shelby led an influential life, too, as a driver and manufacturer of high-performance vehicles.
After all, without Carroll Shelby, there would be no Cobra. The 50-year-old vehicle brand designed and manufactured by his own Shelby American Inc. is still one of the most sought-after and replicated American muscle cars of all time. And without Carroll Shelby's consulting at the request of then Ford Brand Manager Lee Iacocca, the Ford Mustang might still be known as it was in 1964 – as a secretary's car, not the icon that it is today.
In fact, Carroll Shelby was called on by several car companies to help design vehicles such as the Dodge Viper. And without Carroll Shelby and others, the world would not have seen the first all-American team win the 1966 Le Mans in a Ford and Shelby American-designed GT-40 Mark II.
And although the world today is literally without Carroll Shelby, who passed away May 10, 2012, it is not devoid of his impact. "There has been no one like Carroll Shelby and never will be," states Joe Conway, president and board member of Carroll Shelby International Inc. "However, we promised Carroll we would carry on, and he put the team, the products and the vision in place to do just that."
Creative Storytelling
Cars are unequivocally Shelby's claim to fame and the driver of his legacy. But as it is with any icon, the car and the man embody a "je ne sais quoi" that is at once palpable and elusive.
"The brand and the man that created it represent qualities that are near and dear to the American heart – ingenuity, determination, individualism – a guy that's not afraid to try anything," explains Tracey Smith, president of Shelby Licensing, a Carroll Shelby International division. "His drive took him from failed chicken farmer to champion racecar driver/team manager to being the creator of one of the most recognized performance vehicles of all time, the Shelby Cobra."
It's a story that many people want to tell, and it is the licensing division's responsibility to make sure the story's done right.
"We prefer not to have label-slap products," Smith explains. "We've done some pretty fun stuff. We have a golf cart company we work with. We have Carroll Shelby wine. We've done things that are really distinctive and that are more lifestyle-oriented… It's always nice when people come to the table with something that's unique and different."
Shelby laid the foundation for that philosophy and reminded everyone of it until his final days. Indeed, Shelby was known for pushing to the max on and off the racetrack. Even well into his ninth decade, he was motivating the team at Shelby American to introduce vehicles such as the Shelby 1000, which was unveiled at the New York International Auto Show. And as the Cobra celebrated its 50th anniversary (a celebration that still continues), Shelby was there to see the rollout of the 2012 Anniversary 289 Cobra. Though only 50 were offered, the $86,000 to $93,000 vehicle sold out within 48 hours.
In 2007, a 1966 Shelby Cobra "Super Snake" sold for $5.5 million at the Barrett-Jackson Collector Car Auction. In 2008, Shelby auctioned one of his own cars to benefit the Carroll Shelby Foundation through a program with Restoration Hardware. His 1968 Shelby EXP500 CSS vehicle was made available exclusively through eBay. The campaign, also promoted by Kompolt, ended as one of the most watched charity auctions in eBay's history.
Bringing the Brand
Many could spectate these auctions, but few could actually participate. However, Shelby's and Cobra's appeal crosses demographics so making sure the brand is accessible to all is a Carroll Shelby Licensing mission. We can't all be Shelby Cobra collectors or racecar drivers in real life, but we can all play one on TV.
"We've partnered with Electronic Arts (EA) and have worked with them extensively," says Smith of the popular videogame maker. "We have been in every Need for Speed (NFS) game since the beginning and have participated in several unique programs with them. In fact, the last EA NFS game featured an original Shelby car on the cover."
In 2011, Need for Speed introduced a new Shelby to its virtual lineup – the GT500 Super Snake NFS Edition. Shelby American then took the imaginative car and built it in real life.
"We're really pleased with the relationship with EA because we have been able to license so many vehicles through them – the vintage vehicles and the cars we do today," Smith says. "It's given them visibility to a new generation of Shelby enthusiasts."
The relationship with EA is the same modus operandi Shelby Licensing keeps with all of its partners. Smith says that a collaborative dynamic – combined with what she calls the Three R's of licensing: representation, relationships and royalties – "truly prove to be a perfect storm for success."
As it builds its lifestyle product portfolio, Shelby Licensing continues to partner with companies such as high-end apparel maker Wicked Quick. The unique fabric washes and details tell the Shelby story through images and phrases such as "Ferrari's Ass is Mine" – taken from a Shelby quote after losing to Ferrari in 1964. The next year, Shelby's prediction came true.
Smith says the Wicked Quick fashions are balanced with a quality, affordable apparel option through its licensing partner Fifth Sun Graphics available in stores such as Kohl's, Target and Walmart.
In addition to everyday wear, Carroll Shelby Licensing teams up with product makers for special edition projects. David Yurman, a leading fine jewelry and timepiece brand, created the Limited Edition Shelby 1000 timepiece to celebrate the Shelby 1000 vehicle unveiling.
"For half a century, Shelby American has been creating iconic cars that have both progressed automotive design as well as demonstrated how beautiful and affecting American craftsmanship can be," David Yurman states.
Though the brand has now outlived Carroll Shelby's life and will continue to, the foundation of quality craftsmanship is still the company's defining characteristic. Smith, who met Shelby when he was inducted into the Hot Wheels Hall of Fame and left Mattel to head Shelby Licensing, says it's the company's mission to make sure that continues.
"To me, it's equally important to tell the story of Carroll Shelby as it is to run a successful company that works with partners to produce fantastic products that represent the brand well," Smith explains. "Keeping his legacy alive, to me and to my staff, is truly a labor of love. We all love this man and are so proud of this company and who he was."