"We're successful because of our faith in Jesus and our dedication to hard work and family values," co-owner David Strange says. "The service experience is one place where we can compete with big-box stores. We have sure we always give our customers a pleasant shopping experience."
For the Walker, La.-based company, service starts the minute customers walk through the door. "We're going back to the very basics," says Stan Cain, Strange's brother-in-law and company co-owner. "During our last meeting with our store managers, we asked them to come up with a new greeting and salutation we can use with our customers. We're trying to come up with a good, solid greeting that lets people know we care about them and how they're feeling."
The stores' cashiers and stock clerks personally assist customers throughout their shopping trips. "If a customer looks lost or is hunting for something, our employees will ask if they need help and then walk them over and show they where the item they're looking for is," Strange notes. "We try to do anything we can to make the shopping experience easier for the customer."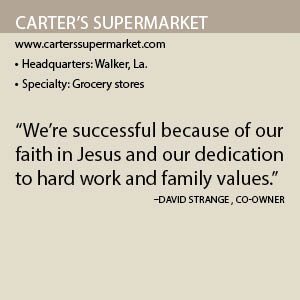 Carter's Supermarket also distinguishes itself in its food offerings. The stores employ full-time butchers who provide fresh-cut meats as well as store-made sausage and stuffed roasts and chicken. A few of the company's six stores also feature smokers, which it uses to make fully cooked meals that customers can microwave, boil or bake to warm up at home. Stores also offer four flavors of house-made marinades in oven-ready containers.
Personal Interaction
The warm reception Carter's Supermarket's shoppers receive from employees is a reflection of the store's positive culture and environment. "We have 350 employees, and very seldom do we hear any of them say they don't like working for us. We have personable relationships with all of our people," Strange says. "Many of our employees have worked with big-box stores previously, so one thing they like about working here is that they get to interact with us at a store level, which they didn't have previously."
The owners regularly visit stores and offer encouragement to managers and other employees. "We always ask our managers how we can make the work environment more fun for them," Cain says. "As we walk through our stores, if we find an employee having a bad day we're not afraid to give them a hug and tell them we're there for them. You don't get that at the big chains."
Most employees seek the company out based on its reputation for treating staff well. "I don't think we've gone out and tried to take an employee from another company," Strange says. "Most of our workers get in a rut somewhere else and are tired of not being able to express themselves in their jobs or make suggestions."
Recent Investments
Two recent technology investments will allow employees to better serve customers. Carter's Supermarket's recent investments include upgrading its credit card terminals to read credit and debit cards embedded with chips.
The company also recently replaced its registers with touchscreen registers that include two screens, one on each side of the cashier. "Our cashiers can now face customers from the time they enter the line to the time they leave," Cain says, noting that customers can view pictures of their purchases as well as prices on the screen behind the cashier.
Carter's Supermarket is assisted in its technology and marketing efforts by its wholesale supplier, Associated Groceries of Baton Rouge. "For an independent retailer, we're doing pretty well when it comes to things like social media," Cain adds.
Living the Golden Rule
Carter's Supermarket's legacy of customer and employee care extends back to 1983, when Stan Cain's parents, Edna and Carter Cain, opened its first store in 1983 in Denham Springs, La. Edna Cain, 75, continues to be involved in the business. Stan Cain's brother, Brent, also co-owns and helps run the company.
"We've spent our whole lives in this parish, and feel that each store is a part of the community, which fosters loyalty from our customers," Stan Cain says.
The company's community involvement includes donating to the Walker Baptist Church food bank, which serves all of Livingston Parish. The company is also involved with Distributive Education Clubs of America (DECA) programs at several local high schools, among other activities.
Carter's Supermarket ultimately credits its longevity and continued success to one simple philosophy. "We are a Christian family business that has always operated on God's principles and treated our customers and employees the way we'd want to be treated," Edna Cain says.