Case and Carhartt To Launch Rugged American Made Knife Collection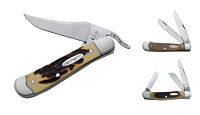 Jan. 15, 2013 – W.R. Case & Sons Cutlery Co., America's foremost manufacturer of premium, handcrafted pocket knives, and Carhartt, America's premium work wear brand since 1889, today unveiled the Carhartt Knives by Case collection. Rugged, reliable, and boasting the unmistakable durability that has become synonymous with these two storied brands, the Carhartt Knives by Case collection will include 22 individual models, all of which are made in the U.S.A.
"Carhartt and Case share an unparalleled and rich history," said Ed Jessup, vice president, sales, W.R. Case & Sons Cutlery Co. "The quality craftsmanship that has defined each of the brands since 1889 is at the heart of each knife and is encompassed by a style that will sincerely resonate with the Case and Carhartt consumer. We could not be more proud or excited to have this opportunity to manufacture and deliver these exciting new knives."
Each knife in the collection will feature Tru-Sharp surgical steel blades with a Strong Shoulder Grind, Case's special grinding process that gives added strength and rigidity to the knife blade at the tang area. Inspired by some of the best known custom makers, the Strong Shoulder Grind offers a feature reserved only for special Case knife collaborations like the Carhartt by Case collection. Further enhancing the distinct look and texture that compliments the hard work ethic of the Carhartt consumer, the stainless steel blades will also feature a Scotch-Brite brushed finish. This same brushed finish can also be found on each knife's Lazy Duck-shaped bolster inspired by the traditional back pocket stitching style of the same name found on Carhartt clothing. The knives will be packaged in a distinctive two-piece box that features Carhartt-themed artwork. Certain patterns will also be available in attractive clamshell packaging.
"Like Carhartt's legendary work apparel, Case Knives are built to the highest standards of handcrafted quality which makes it a perfect extension of the Carhartt brand," said Rick Fecowicz, director of licensing at Carhartt. "They understand what is essential to Carhartt's core consumer and have delivered an exceptional accessory offering Carhartt durable DNA through and through."