Catalog Spree Offers Enhanced Personalized iPad Shopping Experience, Expands To iPhone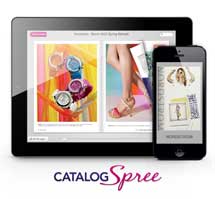 April 9, 2013 – Catalog Spree, a personal digital mall that lets users browse, discover and shop their favorite catalogs, today announced its expansion to the iPhone platform, as well as a new, highly-personalized shopping experience for the iPad. Now available via iPhone, iPad, iPad Mini, iPod touch, and web, Catalog Spree is the only catalog shopping app that lets consumers shop virtually anytime, anywhere – whether at home on the sofa, at a coffee shop with friends or even on-the-go.
In addition to expanding to the iPhone, today's announcement makes Catalog Spree the only catalog shopping app to offer a personalized shopping experience. Consumers can now specify the brands and categories they love and create a customized experience that delivers only the catalogs they want to see. Shoppers will also receive personal shopping recommendations based on these tastes and preferences.
"Digital catalogs are increasing in popularity at a tremendous pace, fueled in large part by the overwhelming adoption of mobile devices," said Joaquin Ruiz, CEO of Catalog Spree. "By making Catalog Spree available on iPhone, iPad and web browsers everywhere, we're not only making digital catalogs accessible to more shoppers, but we're also connecting the dots between catalogs and physical stores. For example, consumers can easily bring their digital catalogs, marked with favorite products and shopping lists, to any store and greatly enhance their personal shopping experience. We're providing consumers with the ultimate opportunity to engage with the brands they love, whenever and wherever they want."
Catalog Spree projects that 250 million digital catalogs will be distributed in the U.S. in 2013, 25 times more catalogs than the 10 million distributed in 2011. This growth has been driven in large part by the rapid consumer adoption of tablets, which grew by nearly 50 percent in 2012 according to a November IDC report. Tablets and other mobile devices offer retailers a new distribution platform for digital catalogs and give consumers the ability to browse and shop while at home or on-the-go.
In addition, Catalog Spree is making it easier for consumers to unsubscribe from print catalogs through a new partnership with PaperKarma. Consumers can now easily unsubscribe from mailing lists from within the Catalog Spree app.