By Janice Hoppe-Spiers
Chuck E. Cheese's is known as the place "where a kid can be a kid." Since it was founded in 1977, the company has hosted countless birthday parties across the country and become known as an iconic pizza restaurant where children often enjoy their first slice of pie.
With more than 40 years of success as a nationally recognized leader in family dining and entertainment, Chuck E. Cheese's has been revamping its decades-old menu to stay relevant and bring its items up to today's industry standards. Senior Director of Culinary Innovation Gregory Casale has been leading this charge since his arrival in 2014.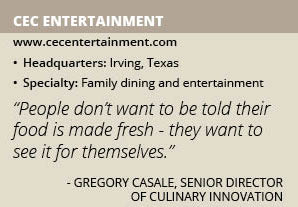 CEC Entertainment, the name Chuck E. Cheese's has operated under since 1998, acquired Phoenix-based Peter Piper Pizza, where Casale was the corporate chef. After the merger in 2014, Casale began overseeing culinary innovation for both Peter Piper Pizza and Chuck E. Cheese's.
"When I first came here to CEC, the menu hadn't really evolved much at all for decades – literally decades," Casale remembers. "One of my biggest challenges was to get Chuck E. Cheese's back into operating the way guests perceived it as a pizzeria and back up to industry standards."
The company and its franchisees operate a system of 607 Chuck E. Cheese's and 147 Peter Piper Pizza stores, with locations in 47 states and 13 foreign countries and territories. The brand has been able to build and maintain ties with generations of families and continues to focus on that through its recent upgrades. "At the end of the day, kids come to play games and eat their favorite food item, which is pizza, and they are pretty happy," Casale says. "A lot of the culinary innovation we do is for mom and dad to be sure their experience is as positive as possible."
Tastefully Crafted
Chuck E. Cheese's is focusing on its roots as a pizzeria and has developed new menu items, limited-time offers (LTOs) and processes that have kids and adults coming back for more. The company has developed new pizza combinations, wraps, wings and crave-worthy desserts.
CEC Entertainment will upgrade the quality of its wings this year, transitioning to a whole-muscle boneless wing and a higher-quality bone-in wing. Casale is working with different LTO flavors for the wings, including a saucy garlic parmesan and lemon pepper to add to its buffalo, barbecue, sweet chili and plain options. "Although the garlic parmesan and lemon pepper will start as LTOs, I'm looking towards at least one of them to be a permanent menu item," he adds.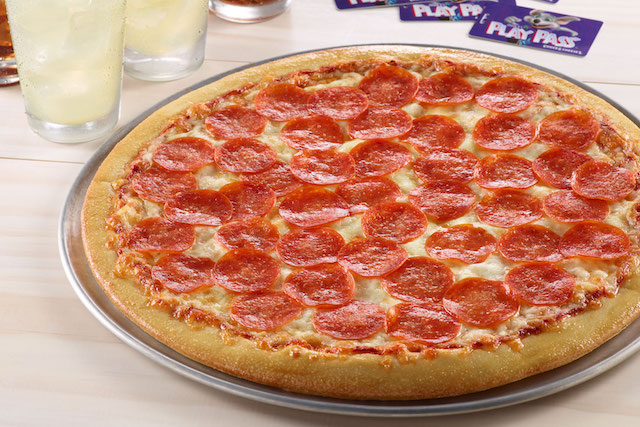 Unbeknownst to most, Chuck E. Cheese's makes its own fresh dough, which is why Casale has spent a lot of time focusing on and testing the quality. One of the biggest changes the company has made is going from a 100 percent gluten-free pizza to a gluten-free crust.
The company now makes its own crust with ancient grains that do not have gluten. "The whole-grain gluten-free crust tastes really good and you would opt to eat it if you didn't know it was gluten-free," Casale says. "The great thing about the crust is that our guests can use our sauce, cheese and all the toppings we offer so there is a lot more customization for the guest."
The downside to Chuck E. Cheese's gluten-free crust is that it cannot claim to be 100 percent gluten-free because it is not baked in a gluten-free environment. "We feel – and through our tests – that we found the guest reaction to being able to customize and have a better product outweighs the percentage [of guests who believe the dough] may have gone through a process that wasn't for them," Casale explains.
Chuck E. Cheese's has also launched a new stuffed-crust pizza. It is also testing a Mediterranean pizza and a pesto pizza, which may be added to the permanent menu. "For the Chuck E. Cheese's clientele, it's something new and different for them," Casale adds.
For dessert, the giant warm cookie Chuck E. Cheese's rolled out a couple years ago continues to be a hit among its clientele. The company is also looking at a double chocolate brownie LTO for later this year. "These are the types of items that have become part of the pizzerias and the guests' expectations of what a pizza place should offer," Casale says. "It was part of my desire to get Chuck E. Cheese's back into that competitive space again."
Transparency in Action
CEC Entertainment believes transparency in terms of food production is important, which is why the company has begun remodeling its Chuck E. Cheese's locations to feature an open-concept kitchen, among other interior and exterior elements. "People don't want to be told their food is made fresh – they want to see it for themselves," Casale says. "We have opened up the kitchen in our test markets, which include select locations in San Antonio, Kansas City and Dallas. And because we've been receiving such positive guest feedback, we were recently given the green light to remodel 25 additional locations later this year, and many of those locations will feature a large kitchen window."
A general manager in San Antonio who has an open concept kitchen says the guests are amazed Chuck E. Cheese's makes fresh dough. "The guests have always assumed we brought in frozen dough, which has never been the case, but they didn't see it until we opened up the kitchen," Casale adds.
"Another interesting reaction we notice is when we are busy, guests give us more leeway when they're waiting for their pizza," he continues. "They can see we are working hard and making their pizza to order. I think guests are impressed when they can see their pizza coming and know we aren't cutting corners. We are an entertainment venue, so opening our kitchens add to that excitement."
Moving forward, Casale says he will be focusing more on increasing efficiency in the kitchens. "I see some opportunity in the kitchen in terms of how we get product out that are not as efficient as they could be and some equipment needs that will also help with efficiency," he explains.
"The fact is that 50 percent of all business is done on the weekends and during birthday parties on Saturday and Sunday mornings and early evenings," Casale continues. "The kitchen needs to be more efficient during those extremely busy periods and that's what I'm going to look into to see how we make these peak times much more efficient."
Chuck E. Cheese's locations are also seeing its customers ordering their favorite itmes through food delivery services like Uber Eats, DoorDash and Grubhub to order when they can't make it to the restaurant. "We were surprised initially that they were ordering delivery, but it's a good thing," Casale says. "People love our food and it was exciting for me, personally."