Cellairis Partners With Pop Superstar Cody Simpson To Launch A New Collection Of Celebrity Mobile Accessories, Cellairis By Cody Simpson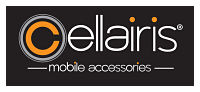 Jan. 9, 2013 – Cellairis, the world's largest franchised wireless accessory company, today announces a new celebrity licensed collection, featuring Cody Simpson. The collection, which is slated to launch Spring/Summer 2013, will feature limited edition mobile and tablet cases designed in conjunction with pop sensation, Cody Simpson.
"We look forward to launching this collection with Cody Simpson," says Taki Skouras, CEO of Cellairis. "Cody is a talented young artist with a loyal fan base and we feel he is the perfect addition to our growing line of celebrity collections. At Cellairis we strive for brand partners that continue to strengthen our relationship with the consumer and offer the quality products they seek. Cody is a social media savvy artist that we are certain will resonate with Cellairis' socially savvy consumer."
Cody Simpson's collection will offer a variety of protective and stylish cases for a range of mobile devices and additional mobile accessories. Designed in conjunction with Cody Simpson, products will feature images of the star, slogans or catchphrases that are exclusive to Cody and various graphics and motifs that inspire Cody and his music.
"I'm so excited to be working with Cellairis on this collection," says Cody Simpson. "My cell phone is the number one way for me to communicate with my fans. I love the direct connection I can make via social media whether I am on the road or at home. I think this collection will be an exciting way to share more of myself with the fans and there will be new opportunities to interact with them one on one."