Champion Skier, Ski Jumper Join Team Kellogg's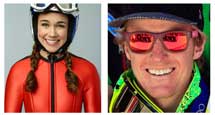 April 9, 2013 – With the close of the 2013 international ski competition seasons, Kellogg's welcomed two new athletes to Team Kellogg's as they work their way to the Sochi 2014 Olympic Winter Games. Fresh off of the medal podium, ski jumper Sarah Hendrickson and alpine skiing Olympic gold medalist Ted Ligety join Team Kellogg's 11-person team of Olympic legends, athletes and hopefuls striving to represent Team USA next year. Get to know the Team Kellogg's athletes and follow them on their journey at Kelloggs.com/TeamUSA.
Hendrickson and Ligety are the newest Team Kellogg's athletes to showcase how everyone from kids to athletes can realize their potential when they start the day right.
Hendrickson began skiing at the age of two. Her father was a ski jumper and after watching her brother ski jump for two years, Hendrickson was no longer content to just sit on the sidelines. Today, 18-year-old Hendrickson flies through the air at 60 miles per hour and is the third-ever woman to win the ski jumping world championship. Hendrickson looks to continue to make history as women's ski jumping makes its debut at the Sochi 2014 Olympic Winter Games.
"Every day I love ski jumping more and more," said Hendrickson. "And I look at each morning as a fresh start to take on the day and continue doing what makes me happy."
As for Ligety, he grew up in Park City, Utah. Raised on the slopes, Ligety spent so much time skiing that he called the mountain his "babysitter" while growing up. It certainly paid off as Ligety raced his way from the Park City farm team up to the Park City ski team and finally the U.S. ski team. Ligety's drive and determination continued to help him earn Olympic gold at the Turin Games, and he has his sights set to do so again in 2014.
"I couldn't be more thrilled to join the incredible athletes on Team Kellogg's and help show how a great start can lead to so many great things," said Ligety. "Breakfast fuels me for rigorous training each day, so it's an easy, but important part of performing your best."
2014 Team Kellogg's Team USA Athletes:
Gretchen Bleiler –Snowboarding
Heath Calhoun – Paralympic Alpine Skiing
Jim Craig – Ice Hockey Legend & Team Co-Captain
Meryl Davis & Charlie White – Ice Dancing
Sarah Hendrickson – Ski Jumping
Ted Ligety – Alpine Skiing
Noelle Pikus-Pace – Skeleton
Amy Purdy – Paralympic Snowboarding
Kristi Yamaguchi – Figure Skating Legend & Team Co-Captain
Torin Yater-Wallace – Freeskiing