Check Out the New Soniclean Pro Series from Brush Buddies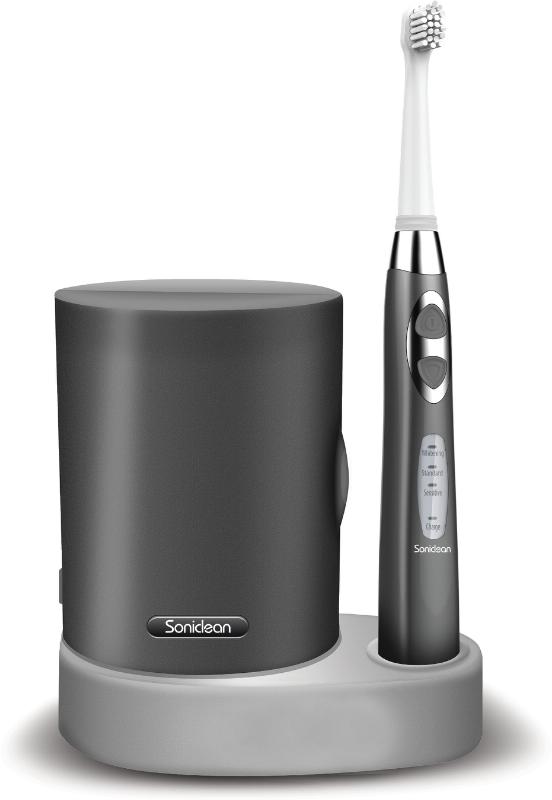 Oct. 31, 2013 – Dental hygiene can be a bit of a chore, but according to Brush Buddies, getting that fresh-out-of-the-dentist's-chair look and feel can be found by using the Soniclean Pro available in 5000, 3000 and 2000 models from Brush Buddies. The company says nothing else cleans or whitens like it. The Soniclean Pro family provides up to 34,000 strokes per minute in whitening mode and offers a built-in two-minute smart timer that guides users to spend the dentist-recommended 30 seconds per quadrant of the mouth when brushing.
The Soniclean Pro 5000 comes equipped with a UV sanitizer to effectively remove bacteria from all four included brush heads. Three unique modes adjust the speed of the bristles from sensitive to standard to whitening. The whitening brush head features industry-leading technology that embeds special polishing particles on the bristles to remove tartar and stains better than any other whitening brush on the market today (according to an independent study conducted by the University for Dental Health Care in Ulm, Germany).
In addition to the whitening brush head, the sensitive brush head features ultra-thin tapered bristles that gently reach around teeth and gums. The soft bristles clean while massaging gums without discomfort. Ideal for people with sensitive teeth, braces or receding gums. There is also a full-sized brush head for adults that features soft bristles uniquely shaped to thoroughly clean around the contours of teeth and gums for a brighter and healthier smile. And for kids, there is a smaller, uniquely shaped brush head specially designed to gently and thoroughly clean even in those hard-to-reach places. A rechargeable battery economically powers the unit.
Like the Soniclean Pro 5000, the Soniclean Pro 3000 is rechargeable and provides 3 sonic cleaning modes and comes with three unique brush heads, including the high-performance whitening brush head as well as the adult and kids brush. The Soniclean Pro 3000 also includes a special brush head storage.
The battery powered Soniclean Pro 2000 comes with two unique brush heads for the cleaning of adult and kids' teeth. Special whitening and sensitive brush heads are sold separately. Includes 2 AA batteries.
All three models are available online at www.brushbuddies.com, as well as at leading retailers nationwide.