Chef Rick Bayless Identifies Top Flavor And Food Trends For 2013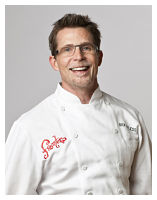 Jan. 30, 2013 – Chef Rick Bayless of Frontera Grill and Topolobampo in Chicago has seen trends emerge from influential cultures across the globe and wants Americans to integrate these trends into their meals at home. To help educate home cooks, Chef Bayless has partnered with Sargento Cheese to create his "Top Flavor and Food Trends for 2013."
"It's easier than most think to integrate flavor into your favorite dishes. And cheese is welcoming to all kinds of flavor," said Chef Bayless. "Whether its barbecue tacos topped with Cheddar cheese, or the bold use of bitter greens like sorrel and dandelions, I expect these foods and flavors to gain popularity and inspire everyday cooks."
FLAVOR AND FOOD TRENDS FOR 2013
Cuisine Trends: Achieve Peruvian flavors by combining your favorite quinoa and cheese with fresh herbs like mint and cilantro or try Middle Eastern influences such as Sumac dry spice to add a complex, lemony flavor to any meal or snack attack.
Preparation Trends: Experiment with fermenting Kimchi to add a sour kick to everyday recipes like tacos and burgers. Go beyond the grill and embrace a slow cooker to braise chicken or pork combined with Sargento Extra Sharp Cheddar Shreds for tender, hearty dishes.
Vegetable Trends: Elevate staple dishes with addictively delicious habanero chilies and Sargento Pepper Jack cheese. Or, throw in some aromatic chanterelle mushrooms, which offer earthy and fruity tastes that complement well with Sargento Swiss natural cheese. Visit your local farmers market and enliven dishes with interesting bitter greens like sorrel and dandelion.
Ingredient Trends: Give your tacos a barbecue makeover by using unique fillings such as barbecue pork and Sargento Chef Blends 4-State Cheddar Shredded cheese. Layer unexpected flavors into sweet desserts by adding herbs like cilantro, basil or lemongrass. Or, bring the bold flavors found curbside by street food vendors into the kitchen by crafting a torta with black beans, avocado, pickled onions and one of the many Sargento cheese varieties, like Sargento Artisan Blends Authentic Mexican Shredded cheese.
"Sargento natural cheeses are the perfect complement to Chef Bayless' trends because they add fresh, authentic flavor to your favorite foods and come in a variety of forms like shredded and sliced cheese and cheese snacks," said Erin Price, core marketing director for Sargento. "2013 is going to be an exciting year for home cooks everywhere who can easily experiment with these emerging trends."