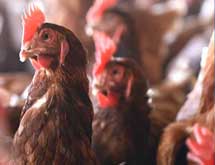 By keeping its standards high and treating its hens in the most humane way possible, this organic and cage-free egg producer/distributor sets itself apart from the rest. Since its establishment in 1953, Chino Valley Ranchers has maintained a three-part mission: to provide consumers the freshest eggs at the best price, to treat its hens in the safest and most humane way possible, and to put back into the earth as much as it takes out.
Although the idea of producing humane, cage-free, and organic eggs has become more popular in recent years, Chino Valley Ranchers remains a leader in the movement. "We're always looking to advance the standards of our industry as set by the National Organic Standards Board," said Chris Nichols, vice president and third generation of his family to work in the business.
Nichols' grandfather, Charles Nichols, started an Arcadia, Calif.-based farm in the early 1950's with a backyard flock. After several years of producing eggs from his backyard flock, he moved his operation to Beaumont, where he later partnered with Chino Valley Ranchers to produce cage-free eggs. When Charles passed away suddenly, his son Steve was thrown into the company's driver's seat where he took charge without hesitation.
"My father worked the specialty side of the market with the cage-free aspect," said Nichols. "In the early '90s, he realized cage-free and organics were the future of our business, and we continue to grow and expand in that direction."
At the time, those in the industry thought the move to transition into organics was risky, but Nichols' father felt it was the right way to do business and persisted. Today, Chino Valley Ranchers operates six farms with approximately 200 employees, Nichols mother is the CFO, and his father, Steve, is the CEO and is still in charge.
"My dad is an innovative thinker, and he wants to keep growing and keeping our name out there as people who are changing the industry for the good," said Nichols.
Fresh factor
Chino Valley Ranchers gained its organic certification in 1997 when California Certified Organic Farms (CCOF) came about and produced a set of organic standards. In 2005, the company acquired a ranch in Texas it had been involved with to produce local eggs.
With the ranch's close proximity to local organic grains, the opportunity to convert the ranch to a dedicated organic facility fit the company's three-part mission. The decision was a turning point for the company, and the acquisition became the first of many that developed Chino Valley Ranchers' local farm concept.
"Part of our three-part mission is to provide the freshest eggs possible at the best price, and a piece of that is keeping the eggs closer to the source," said Nichols. "Utilizing the resources of the surrounding area such as local grains helps us produce a fresh quality product whether in Texas or any of our farms."
In keeping with the fresh factor, Chino Valley Ranchers expanded its family farm concept to the Midwest, developing partnerships with various Amish and Mennonite farmers. Nichols said the company looks to work with small family run farms. Farms such as these have more interest in what's going on because their farms are their livelihood, and adhering to the company's production standards helps to keep a good name for the farms and for Chino Valley Ranchers.
"We visit the farms a few times a year and make sure they meet with our standards," said Nichols. "We expect the same quality of production at all of the farms we deal with so there are no surprises when we show up."
From start to finish
Approximately 40% of Chino Valley Ranchers' business is private label. Nichols said the move into private label business was inspired in large part from the demand of its corporate customers.
"These companies are particular about who they deal with," said Nichols. "We invite our key accounts out to our farms. When they've see how we produce our eggs, and the condition under which our hens live, they have all walked away happy."
Another reason Chino Valley Ranchers has been successful in private label is due to its ability to handle the entire process of egg production from start to finish inhouse. The company's ability to supply the consumer with a variety of product, from cage free to organic and nutrient enhanced, has also aided in its success.
"We manage the bird from one day old all the way up until the end of it's laying cycle," said Nichols, who got his start in the family business working in the hen houses. "The companies we supply see our dedication and that we have more control over what's going on than some of our competitors."
Because it handles all aspects of the business, Chino Valley Ranchers takes on more inherent challenges than most. Communication to its out-of-state farms required hiring local management. In addition, eggs are an inherently low margin item, so the company produces and sells large quantities to be profitable.
Add to that fluctuating grain prices, the cost of maintaining organic standards, and the challenge of consumers wanting to cut costs rather than spend more for food items, and it all suddenly appears overwhelming. But consider this: the organic food category has been among the least impacted by the recession. And even in its slowest year (2008), Chino Valley Ranchers still managed to grow 8%.
"Sales in other product categories went down, but organic in general pretty much held its own," said Nichols. "The people who buy our eggs haven't changed their shopping habits, and we're hopeful that as more people realize the importance of adapting to an organic lifestyle that they will choose Chino Valley Ranchers farm fresh eggs."