The company once operated 900 stores between its traditional missy brand and the plus-size brand CJ Banks. "As retail softened, we modified our structure to serve both plus-size and missy customers in one store," says President and CEO Keri Jones, who joined the company in 2018 after 27 years at Target. "The real estate shrinkage impacted sales and the number of customers more than we expected. This, combined with a tough retail environment, precipitated our downward trend."
As Jones and her leadership teamwork to turn around the company, they do so with two large advantages. First, the company services a unique customer segment of baby boomer women that are extremely loyal to the brand. Those women tend to live in suburbs, rural areas and small towns with fewer than 75,000 people.
Second, the company is a value specialty retailer that combines the service of a specialty or high-end department store with the lower prices and value of a mid-range department store.
"Our customers love our brand, but the financial performance has been poor. Therein lies the opportunity," Jones says. According to Jones, this opportunity is attracting seasoned retail executives to join the turnaround effort. "When we share our story with executive candidates, they believe in the potential of this business and want to be a part of our journey."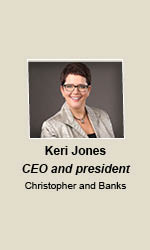 Within months of joining the company, Jones quickly brought in a new leadership team, all with 10 to 20 years of experience at well-respected retail brands. Among others, Jones hired Chief Merchandising Officer Andrea Kellick – formerly of Target, Express and Old Navy – and CFO Richard Bundy, formerly of Chico's FAS and Victoria's Secret. "The experience they bring means they can get up to speed quickly and make an immediate impact," Jones says.
The recent addition of Chief Marketing Officer Rachel Endrizzi – formerly of Regis Corporation and Polaris – was no exception. Her primary focus is to introduce the brand to women who do not already know and love Christopher & Banks. "The recent announcement that Ascena Retail Group will be closing all 650 Dress Barn stores presents an opportunity to invite new women to experience the style and service that differentiates Christopher & Banks," Jones says.
Customer Experience
Christopher & Banks has approached the turnaround by taking a comprehensive approach – all focused on improving the customer experience. Under Kellick's leadership, the company set out to upgrade its product assortment. "In recent years, our fashion apparel didn't consistently appeal to our core customer," Kellick explains. "Clothing that flatters our customers is different than what appeals to 20-something customers. While our goal of providing effortless style to real women has not changed, we needed to recognize that her needs have changed and she wants something new."
This season, Christopher and Banks focused on creating an updated assortment that is fashionable but also works for its unique customer segment. As Kellick puts it, the new selections are "flattering and on trend, and appropriate for her body."
For example, the company launched a new linen collection this spring. "The customers love it," Kellick says.
In creating the new assortment and in-store experience, the team was mindful of the customer's desire to assemble a complete outfit. Visual merchandising techniques and improvements to inventory flow have allowed the store to appear less cluttered so she can easily see what can be worn together.
Among the company's greatest assets is its store associates, many of whom have strong relationships with customers. "Our associates often know customers by name," Jones says. "Our stores have a real community feel. What was missing was arming our associates with techniques to help her build an entire outfit and make our customer even happier."
To that end, the company hired Carmen Wamre, formerly of Express, last December as chief stores officer. Her immediate focus was to help associates leverage their relationships with customers.
In February, Christopher and Banks launched a new in-store training program with a greater emphasis on styling and sales. Early results have been strong. "Customers are purchasing more frequently and buying more units per transaction," Bundy says.
Online Expertise
Another bright spot for Christopher and Banks is online sales, which have been growing at double-digit rates for the last four years. "A lot of people are surprised given our age demographic," Jones acknowledges. "We have 236,000 followers on Facebook. They are boomer women who are digitally savvy."
Christopher and Banks continue to invest in improving the online shopping experience. In late 2018, the company expanded its omni-channel capabilities by allowing online shoppers to view and purchase inventory held in stores and have the product shipped directly to them from the store. Christopher and Banks now have 170 stores that ship directly to customers. Earlier this year, the company added "buy online, pick up in store" capabilities. "More flexible fulfillment options allow our customer to shop whenever, wherever, and however she wants to, and allows us to leverage our inventory," Bundy says.
Cost Containment
Increasing sales is one side of improving performance, but the company recognizes the need to reduce expenses. For example, the company is taking a hard look at store leases. "Sales have declined but occupancy costs have not," Bundy says. "We hired a third party to assist us with negotiating rent reductions."
In addition, the company is reviewing money spent on fulfillment, transportation, utilities, IT and other costs. "Reducing operating expenses that do not negatively impact the customer experience will allow us to invest in what we need to drive our business into the future," Jones says.
Jones' vision for the future is for Christopher and Banks to become the store of choice for baby boomer women. "When a customer shops with us, she knows she will get a product designed just for her at a great value with exceptional service," Jones says. "We remain committed to delivering effortless style and value in a way that delights our customers."