Citizen Watch's Flagship Store Coming to NYC's Times Square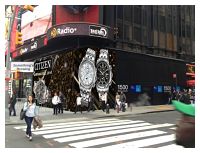 May 8, 2014 – Citizen Watch Company today announced the upcoming debut of the brand's global flagship store in Times Square, New York City. Located at 1500 Broadway this will be the first Citizen Watch global retail concept store in North America.
"As a truly global brand Citizen Watch Company represents people from throughout the world, so there is no better place than Times Square to share our international brand message," said Toshio Tokura, President and CEO of Citizen Watch Co. Ltd.
"It's an exciting time for Citizen as we open our flagship store in New York and also launch our new BETTER STARTS NOW brand campaign," said Jeffrey Cohen, President of Citizen Watch Company of America. "Leveraging the strength of our proprietary Eco-Drive light powered technology where watches never need a battery, Citizen is poised to build on our success and accelerate our growth."
"With over 1,300 square feet, the new store will also give Citizen the opportunity to feature our full range of offerings, from watches with our groundbreaking Eco-Drive Satellite Wave technology; to our sport enthusiast's Promaster Series for diving and hiking; to our stylish new collections of women's watches, set with diamonds. We anticipate that the store will enhance consumer appreciation for the brand on a grand scale," Cohen continued.
Citizen has hired New York based architectural firm Mapos LLC, and the opening is planned for November of this year.