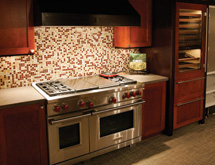 Not many retailers have had the honor of being recognized for their time in their communities, but Clark Appliance soon will. For a century, the company has sold high-quality appliance products to people in Indianapolis.
"We're one of the very few that has seen 100 years in our business," President Bob Clark says. His grandfather, Revere Jacobs, started the business with a single store in 1913 that sold washing machines.
After Jacobs' death, Clark's mother and father took over Clark Appliance. At the time, it was in debt and close to bankruptcy. However, "They worked to make it profitable, and it became mainly a Maytag dealer," Bob Clark says.
In 1986, Clark and his wife, Cindy, bought his parents' shares of the company. Over time, Clark Appliance grew to sell other high-end brands, including Monogram, Dacor Inc. and Viking Range LLC.
Today, Clark Appliance operates two stores in Indianapolis and its sweet spot is customers between the ages of 35 and 65. While it often provides items for starter homes, "What we specialize in is their second or third home," Bob Clark asserts. "As their kitchen [gets bigger], they're at the point where they can afford to get what they want rather than what they settled for in the past."
Clark Appliance serves more than its customers, however. The firm has contributed to its community by hiring and buying locally, and contributing to the Ronald McDonald House and Habitat for Humanity. Additionally, "We're being recognized this year by the Indiana Historical Society for staying in the Indianapolis market as a local, family owned business," he says.
Service Oriented
Clark Appliance sets itself apart in its market through its service, Clark says. Although some big-box competitors use contractors to perform deliveries and installations, Clark Appliance does them all on its own.
It also gives customers a better shopping experience with a floor staff that has been trained about the products they sell. "We teach them to educate the customers so [they] can make an informed decision as to what's best for their needs," Clark says.
Unlike some retailers, Clark Appliance's salespeople do not try to push a specific product to earn a commission, Clark asserts. Instead, "All of my people [get a] straight salary," he says.
Clark Appliance also employs full-time chefs to give in-store demonstrations with free cooking classes. "I was the first appliance dealer to [do that]," Clark says, noting that its main location has 10 live kitchens.
Its chefs play a part in sales, too. Customers often ask the chefs about what products are best for certain types of cooking. "The customers look at these chefs as being neutral," Clark says. "It helps them really narrow down [what they want], based on the type of cooking they do."
Down in Miami
Clark's family business has extended to a fourth generation and even out of its home state of Indiana. His son, B.J. Clark, is in a partnership with the company as he manages La Cuisine & Clark Appliance, a retailer based in Miami.
Previously, the younger Clark managed Clark Appliance's delivery, install and warehouse departments for several years. When B.J. Clark went to take his current role in Miami, La Cuisine "was an existing store that was having challenges getting [itself] going," Bob Clark recalls.
B.J. Clark oversaw the store's distribution side, but needed someone to run the retail side and called his father. "He offered me to come down and to run it for him by adding some of the features and the ways we display products," Bob Clark recalls.
Finishing Strong
This year will be Clark Appliance's best year ever, Clark says. But getting there hasn't been easy, he admits. In recent years, the company coped with the economic downturn by reducing its number of stores from five to two.
It also reduced its staff. "From 2007 to the end of 2009, our business had dropped from 119 employees down to 72," he recalls, noting that the company also saw a $10 million drop in revenues and had to close one of its stores due to flooding.
But thanks to improvements in the economy, "We're now back," Clark reports. "We will finish this year with well over $30 million. It's approximately a $15 million turnaround."
Clark Appliance also plans to open a new warehouse this fall and keep a close eye on the economy, Clark says. "We will just keep doing what we're doing right now throughout the next year or two and see how the economy does," he says. "If it continues to pick up, we'll continue expanding again to the south side [of Indianapolis] and look at expanding more in the Miami market." O