The company that eventually became Club Champion was founded in 1994. In 2010, a private equity firm bought an 85 percent stake in the business – then composed of two locations – and changed the name to Club Champion.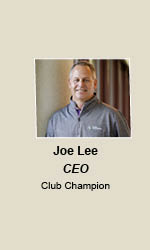 "I was part of the investment group," says Lee, who is also a co-founder. "I turned to my partner and said I don't want to just invest in it, I want to run it." The company initially grew slowly, adding a few stores a year. "It took time to get the model and scale it and to tweak the recruiting and marketing."
Steps to Better Golf
When a golfer arrives at Club Champion with their current clubs, the process starts with an interview session lasting about 10 minutes where the fitter learns more about the golfer's tendencies and goals for their game. Is the customer a casual or avid golfer? Does he or she slice or hook the ball? What are the weaknesses and strengths of the customer's game and what are they looking to accomplish through the fitting? That and much more are covered.
The client then establishes a baseline with their current clubs using TrackMan swing analysis technology – the same that is used on the PGA Tour. "When you think about golf, it is really about physics," Lee explains. "Put the ball in motion at a certain speed at a certain angle. We look at things like the spin rate, how much energy from the club head is actually transferred into the ball to create as much momentum as possible. Is there a problem hitting the ball straight?"
A Club Champion fitter then analyzes the client's shots. The fitter considers statistics including ball flight patterns, distance the ball travels and its trajectory, spin created and the effective energy transferred from the club head to the golf ball – meaning how well the golfer is striking the ball with the center of the club face. "We establish a baseline with those shots," Lee says. "The rest of the fitting session is testing combinations of heads and shafts to give the customer the best possible performance with new clubs."
It's a bit like having your eyes examined for glasses. Some lenses help you see better. Likewise, at Club Champion, a specific combination of heads and shafts allows a golfer to play his best golf.
"Maybe you need to get the ball in the air faster and reduce spin," Lee says. "Perhaps a lighter club will do that. Our fitters are trained to understand what produces different types of shot shapes and improvements. Golfers are always attempting to get more distance and achieve greater control."
Avid Golfers
A person doesn't have to be a professional golfer or low handicap player to benefit from a fitting at Club Champion. A recent study by Golf Magazine found that higher handicap players actually improved more than low handicap golfers. "Club Champion is a solution for players of every skill level," Lee says. Our criteria is not what level you play at but how committed you are to improving your game."
A golfer could, of course, attempt to figure out the best combination of club heads and shafts on their own. "There are very few golfers who have enough knowledge to know which clubs are perfect for them," Lee says. "Say they need a driver. There are 50 driver heads and 190 driver shafts. It would be almost impossible for a golfer to find their ideal combination without professional help."
Four Advantages
While Club Champion has competition, there are distinctly different levels of fitting. There are demo days on a golf course which might offer a 10-minute fitting. A golf pro might offer a fitting of 30 minutes or a sports retailer or big box store might offer a somewhat more advanced fitting. "All of those are called a club fitting, but not a fitting like you would receive at Club Champion," Lee says. "We would call ourselves premium and comprehensive."
Club Champion fittings take anywhere from one hour for an individual club fitting to three-and-a-half hours for a full bag fitting. Data is recorded and the golfer gets a diagnostic report on what head and shaft combinations would work best and why. "We fill a specific niche," Lee says. "That's why we are able to go into so many markets."
Lee says Club Champion has four major advantages over other club fitters:
* The best trained and most proficient fitters.
* More than 35,000 possible head and shaft combinations, the most of any comparable fitting company.
* The best technology including TrackMan, SAM PuttLab for putting analysis and SST Pure to optimize shaft performance.
* Custom in-house building and assembly of the clubs and assembling to the tightest tolerances.
2Ship
For several years, Club Champion has used 2Ship, a transportation management system which compares rates and services. "They have helped us as we continue to grow in scale," Lee says. "We get better shipping rates based on volume and the frequency we ship. It helps to optimize our rates for premium carriers."
Lee anticipates that as Club Champion continues to grow, 2Ship would continue to add value. "As long as we feel we are continuing to get more attractive rates, we would expect 2Ship to add value."
Lee adds that he would recommend 2Ship to other retailers. "Our customers are happy that they are receiving their orders in a timely fashion and our teams are happy because they can ship and track orders using an easy-to-use platform," he says. "2Ship's customer support is also second to none."