That was in 1948. Dante Cosentino's two older sons, Jim and Jerry, who had recently returned from WWII, established the business and over time their siblings – Dante Jr., Mickey, Mary and Joyce – joined. Today, the second generation runs the business, which has expanded to 30 stores. Of those, 23 are under the banner of Price Chopper. The remainder are the higher-end Cosentino's Market, the neighborhood Apple Market and SunFresh stores.
"My father and uncles and aunts were the first generation," Cosentino says. "They were very passionate about the business and taught us how to be the best. We are working hard to grow the business and be as good as they were."
The most important lesson is to always keep in mind that running grocery stores is a people business, Cosentino says. "We love it when everyone is smiling, sampling, happy," he says. "Our employees are very knowledgeable about the products they are selling and understand how important customer service is to our success."
At 10 a.m. every day, Cosentino's aims for each of its locations Grand Opening ready. "Everything should be done, full, fresh, clean," Cosentino says. "We change our merchandising out every week and prominently display our specials."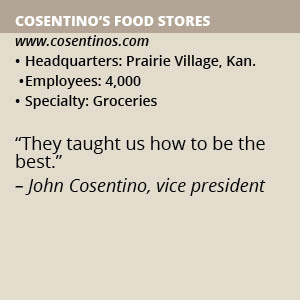 As customers increasingly desire convenience, Cosentino's obliges.
"We cut fresh fruit and vegetables, and offer more heat-and-eat and ready-to-cook," Cosentino says. "In some stores we have a pasta station, a pizza station, hot foods, salad bars and gelato/ice cream. As we build new stores, we continue to expand space for prepared foods and are almost becoming a fast-casual restaurant."
The grocery stores offer barbecue – many locations have their own wood-fired smoker – featuring pork ribs, beef brisket, and chicken. Most stores offer nightly meal features such as steak night on Wednesdays, "we sell nearly 6,000 steak dinners on a Wednesday night," Cosentino attests
Major Remodels
In August, Cosentino's Food Stores plans to reopen in Leawood, Kan., after a major remodel. "We are really excited," Cosentino says. "There will be more prepared and more fast-casual food."
The 58,000-square-foot grocery store will feature a new Starbucks, a 30-foot row of fill-it-yourself kombucha and tea biotics, a make-your-own burrito bar, chicken wing bar, an Asian foods area with Poke bowls and sushi, a variety of salads and a 12-foot case of shaved deli meats – and, of course, barbecue. The bakery has been expanded and will offer more single-serving items. The produce department will expand and be re-located to first position. The in-store pharmacy will gain a drive-thru.
Cosentino's Food Stores regularly builds new stores and remodels existing stores. "We think it is important to keep our stores fresh and inviting," Cosentino says.
That was also important to his father, who died a few years ago while the company was planning to build a third Cosentino's Market in Overland Park, Kan. "Before my dad passed away, we were getting ready to build this store," Cosentino recalls. "One thing he said to me, 'I'm proud of you and your brothers. Make this the best store ever.' We did that. I am telling you, it's a spectacular store."
The store was recently voted Best Grocery Store in Kansas by The Daily Meal and MSN.com The store, which was completed two years ago, features a large specialty foods department, a Starbucks, juice bar, sushi, gelato, candy and popcorn, local artisan chocolates, a deli featuring 40 feet of hot foods, salad bar, and a cheese island with over 100 selections of imported and domestic cheese.
Great Training
One of the biggest challenges facing Cosentino's Food Stores in this period of low unemployment is recruiting entry-level staff, although the company tends to find it less of a challenge than its competitors. In addition to competitive wages and benefits, Cosentino says more is needed. "We have a great training program, which I think helps with retention," he says. "We want our employees to feel like they are part of our family."
Over the past few years, Cosentino's has added several in-house recruiters who seek out new employees, conduct orientations and move staff into training. "We like to offer a lot of cross training between departments, and sometimes between stores, which helps staff gain knowledge quicker and reduces employee turnover," Cosentino says.
Cosentino's also believes in helping out in the communities where it has stores. The company regularly donates to food pantries and assists programs which benefit local children – such as school and neighborhood sports programs. As part of the Price Chopper group of stores, it also sponsors the Kansas City Royals and MLS team Sporting KC.
In 2020, the company plans to re-locate and expand its grocery stores in Gardner, Kan., and Smithville, Mo., to nearby properties. More broadly, the company will continue to both remodel and build grocery stores which are better suited to its customer's changing needs. "Our intention is for our customers to have the best shopping experience and want to shop our stores – not just need to shop," Cosentino says.