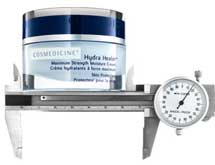 After just three years, this skincare company managed to rise to the top in a highly competitive market. When asked how Cosmedicine became one of the top-selling skincare lines in the US just three years after it hit the market, Jane Terker said, "The simple truth is our products work."
Although there are countless lines of skin cleansers, toners, and moisturizers, not all of them deliver the results they promise. According to Terker, president and CEO of Cosmedicine, if there is a demand for a product and it works well, it can quickly become one of the industry's top competitors.
"It's a question of product solution," she said. "There are hundreds of skincare lines in the market today. They all make the same claims, but very few work as well as they promise. Consumers today are overwhelmed by all of the over-arching claims and marketing speak used in advertisement."
Terker and the other founding members of Cosmedicine originally created the line as an offshoot for Klinger Advanced Aesthetics. Sephora, an international leader in cosmetics, approached the company and the pair agreed the Cosmedicine products would be sold exclusively through Sephora.
For the past three years, the skincare line has been one of Sephora's most successful. In 2008, Terker and her team began selling the products through the Home Shopping Network (in conjunction with Sephora), making appearances on TV and on the company's Web site.
Since Sephora exclusively sells make-up and skincare products, the partnership provided Cosmedicine with a large customer base, practically overnight. The training of Sephora staff is something the two companies work together to constantly improve.
"The training and education of the Sephora staff is an ongoing priority," Terker said. "With new staff constantly being added, we need to ensure our customers are talking with people who are familiar with our brand. Our products are unique in terms of what they do and how they work, and it's important to us that this is relayed to our customers."
With approximately 240 Sephora locations nationwide, the 18 members of the Cosmedicine team have their work cut out for them, but last year's revenue, which pushed $20 million, speaks pretty well for the team. According to Terker, the TV spot on the Home Shopping Network helped because it allowed the Cosmedicine team to speak directly to its customers and educate them first hand.
The science of beauty
"Completely turning back the clock isn't possible," Terker said. "There are certain results you can only get with a surgeon and a scalpel. We've created a skincare line that we market based on truth. We only promise what our products deliver."
To ensure their products worked as well as they wanted them to, Terker and her team turned to John Hopkins Medicine for guidance. The staff at John Hopkins showed Terker and her team how to conduct clinical-based, objective research. The Cosmedicine products were put through rigorous experiments testing wrinkle reduction and sebum and hydration levels, among other things.
"We only make claims on the changes we found to be statistically significant between the test group and the control group," Terker said. "This means that our claims are the minimum results a customer should expect, and many will experience even greater results."
According to Terker, Cosmedicine is the only skincare company that has performed these types of non-subjective, clinical tests on its products. As a result, its products are unique. Through research and unique formulation, Terker and her team have designed a cleanser that not only cleans but also removes face make-up and eye make-up, including waterproof mascara and heavy-stain lipstick.
To top it all off, the cleanser is so gentle that if someone were to pour it in the eye, it wouldn't burn. "We invest heavily in our research and development team," Terker said. "The secret to our success is simple—we figure out what customers really want, design a fitting product, and test the product to make sure it delivers."
Starting this month, Cosmedicine products will be sold at Nordstrom and Ulta stores across the US, which marks the first time the company has used a retailer other than Sephora. Shortly after, Cosmedicine products will be available at select Macy's locations.
By partnering with two of the country's largest department stores, Terker and her team hope to expose their products to a larger, more diverse customer base. "The typical Sephora customer is young and buys a disproportionate amount of make-up," Terker said. "By making our products available in department stores, we hope to attract older members of the population, in addition to the young customers we already have."