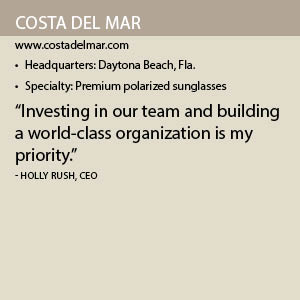 Keys to Success
Costa will celebrate its 35-year anniversary this year. Rush attributes the company's longevity in the industry not only to its "360-degree" operation, but also to a focus on technology and creating a loyal following of consumers, they call "their tribe."
"The lenses we launched in our earliest days were cutting-edge and allowed diehard anglers an advantage on the water with full polarization, UV protection and sharp color contrast," she explains. "We were first to market with color enhancing lens technology before it was the standard in the market, and we continue to challenge ourselves to bring lens innovation to the forefront."
She also attributes a diehard group of consumers to their success. "We are blessed with an unbelievably loyal following," Rush says. "Our consumers today are not just anglers, they are also millennial's who absolutely love what we stand for. This diversity in our consumer and their passion for the brand has really set us apart from our competitors."
Staying true to its roots has also been key to Costa's success. "The brand was built in a very careful way. This authenticity has made us very relevant today when consumers are looking to connect with brands emotionally and support companies who they believe share their values," Rush says.
"Consumers and retail partners have always been a huge part of the equation for Costa," she adds. "Being customer focused from the very beginning was one way our brand stood out, especially since we are a contender brand. We want to bring the very best in partnership and really drive the right kind of change and innovation to keep the growth going in the market so everyone wins."
One area of focus for the company is enhancing the customer experience both online and offline. In 2017, Costa launched a new web platform and debuted a new shop-in-shop concept and display program for their wholesale partners.
"We believe in an omni-channel approach and want to ensure the consumer has a similar experience with the Costa brand," Rush explains. "Whether they are looking for a great pair of sunglasses at their favorite retailer or on our own web store."
Last but not least, Costa's nearly 300 employees are critical to its success. Most of its small but mighty team is based in Daytona Beach, but the company also has a remote sales group working across the country.
"We are very proud of our employees and thrive on their passion, commitment and community-mindedness," Rush says. "At Costa, you can do well and do good at the same time. To be able to have impact and truly make a difference, and still be a part of a growing business is what we pride ourselves on."
Brand With A Purpose
Costa is passionate about supporting things that really matter, like clean water, sustainable recreational fishing, and protecting the oceans and water the love. "For 35 years, this company has been led by a higher purpose," Rush says. "This has been part of our mission from the very beginning."
Through programs like its Kick Plastic campaign, where the brand seeks to raise awareness about the growing plastic pollution problem threatening oceans worldwide, to serving as a long-term partner to shark research organizations like OCEARCH, Costa encourages people to help protect the Earth's natural resources in any way they can.
Most recently, the company launched #OneCoast which brings relief to the coastal communities and families affected by the string of hurricanes that hit in Florida, Texas and the Caribbean in 2017.
The mission harkens back to Costa Del Mar's dedication to serving others, its community and environment. "We call the community of Costa the 'Costa Tribe,'" Rush says. "That includes our employees, customers and consumers. People rally here at Costa because they want to make a difference and help others.
"When the hurricanes hit last year, it really affected us here. We are a Florida-based company that's built our business in the southeast," she continues. "Everyone mobilized to help, from packing gear bags for over 400 first responders in storm ravaged Houston to sending relief groups to clean up in the Florida Keys right after the storms passed. The team went house-to-house, helping families clean up and get back on their feet.
"But we felt like it wasn't enough," she adds. "We wanted to create something that could extend beyond the U.S., beyond the storms that affected the southeast and have lasting impact well into the future. So we teamed up with the International Game Fish Association (IGFA) to create a global relief fund called WARF. WARF was created to support anglers and their communities around the world in the wake of major natural disasters."
Looking Ahead
In the nearly two years since she joined Costa, Rush has focused on its people. "Investing in our team and building a world-class organization is my top priority," Rush says. "The culture and organization we're building respects, honors and values Costa's history of success, but still embraces change and opportunities of the future with new ways of operating.
"To be able to lead the transition from the past into the future over the last year-and-a-half, and have the team and culture we have today, is what makes me most proud," she continues.
"We don't want to be a company that measures success based only on the numbers, but more importantly, on the depth of the relationships we've fostered over the years, and our commitment to all the things we're passionate about," Rush concludes. "In the future, I see Costa maintaining all its natural authenticity, extending our passionate consumer following and partnerships well beyond the United States, and continuing to make the best sunglasses out there for life on and off the water."