Cowgirl Creamery continues to grow under the wings of its new parent company,
but maintains the qualities that made is special.
By Mark Lawton, Knighthouse Media
There's a bit of mystique to being a small artisanal cheesemaker, but Sue Conley's advice for her smaller peers in cheesemaking is to do everything they can to grow. "If a cheese company is too small, it won't survive with the FDA rules and the expense of marketing in today's world," she says. "My cheesemaking friends who are very small need to grow a little bigger to survive. It's much like an endangered species."
Conley and her business partner Peggy Smith took their own advice in spring 2018 by constructing a new creamery that is four times the size of its predecessor.
"Our facility wasn't adequate for the amount of cheese we wanted to make," Conley explains. "It will supply us with extensive aging facilities for aged cheese and state-of-the-art equipment for fresh cheese making. We will have more aged semi-firm cheeses and a new line of fresh cheese. It's our big achievement going forward for the next three to five years."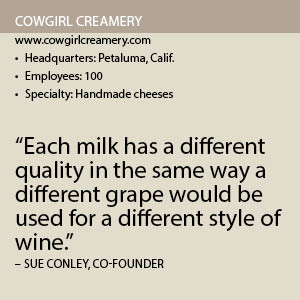 The business partners had been considering borrowing the money to build a new creamery but then were approached by Emmi, a Swiss milk processor that sought to acquire Cowgirl Creamery.
"It seemed like a reasonable thing since Peggy and I are both in our 60s rather than taking the risk of borrowing money again," Conley says.
Emmi management has been fairly low key. "It's been positive except for a lot of financial reporting we didn't do before," Conley says. "Because we're part of that company, we can pull expertise from their executive team if we need help with human resources or purchasing."
Cowgirl Creamery is not your average supermarket cheese. It is devoted to certified organic agriculture and buys several types of milk from multiple dairies in California's Sonoma and Marin counties.
"Each milk has a different quality the same way a different grape would be used for a different style of wine," Conley says.
Born in a Barn
Conley and Smith moved to San Francisco in 1976 after finishing degrees at the University of Tennessee. They both worked in well-known restaurants in the Bay area until the early 1990s when they started a marketing company to help farms and dairies in West Marin County get their products to chefs in the Bay Area.
They opened in a renovated hay barn in downtown Point Reyes that also contained a small cheesemaking room toward the front of the building. An idea was born.
Today they have retail outlets at Point Reyes and in the Ferry Building in San Francisco, along with the creamery in Petaluma. The retail outlets are valuable for marketing purposes as well as sales.
"The retail stores are our biggest marketing strength," Conley reports. "The Ferry plaza is the premier place to shop for local specialty and organic foods. Inside it's a showcase for the best producers and farmers."
The shops are also a focus for merchandising, although less so than previously.
"We used to display a lot of cheeses without packaging and out of the refrigerator," Conley says. "It was more like a European cheese shop. In the last five years, the FDA has become more stringent about keeping cheese at cold temperatures. The parmesans and the goudas can [still] be out. We like as little packaging as possible so you can see the beautiful shapes and colors and lines of cheeses."
Cowgirl Creamery has a website but keeps it fairly basic. "Which is a problem," Conley says with a laugh. "The customer expects an Amazon experience, a very seamless transaction with free shipping. The cost of shipping is expensive because it's next-day air to make sure the cheese gets there in good condition."
The website offers the Library of Cheese, which describes cheeses and cheesemakers from around the world. "That draws a lot of people to our website who use it as a reference," Conley says.
A Beautiful Place
Recruiting qualified people has its challenges. When Conley and Smith first opened Cowgirl Creamery in 1997, "there was not much interest in making cheese," Conley says. "In the first five years it was difficult to find people to work with us. In the next 10 years, there was more interest. This is a very culinary area.
"Now, with unemployment being low and the cost of living very high, it's hard to pay people enough to live here. Rent is very high. The hourly pay rate has to be high enough to compensate for the cost of housing."
Conley prefers to hire for the long term. "We have lots of five- and 10- and 15-year employees," Conley says. "I prefer that to training, training, training every day."
Cowgirl Creamery offers benefits including health insurance, 401(k) and paid time off. Plus, Conley notes, "We work in a beautiful place and create a positive and lively work environment. We have food available for people to snack on. There are once-a-month staff meals and tours of farms so they can meet other producers in the area. If you create a great atmosphere, it keeps people around."