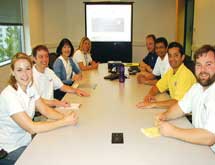 Smart security features, flexible architecture, and a stellar support system make the latest debt collection software from this IT company a success. CR Software launched its newest debt collection management software, Titanium ORE, in 2007, and CEO Martin Germanis believed it was the first open architecture system. But although that means Titanium ORE is supremely flexible and can work with any best-of-breed software out there, that doesn't mean it's not secure.
"Most data theft occurs within an organization, not from the outside, which is why all data traffic within and through Titanium is encrypted," Germanis said. "We want to provide retailers with the best means to collect and manage the collection of their debt, but we want to let them to do so in a safe, efficient way."
Titanium ORE includes tools that make it easier for retailers to collect more debt in- house, options for managing outsourced debt like graphical dashboards and reporting solutions, prioritization software to allocate debts to specific collection agencies, and measurement tools to see which collection agencies are providing the greatest value. Germanis said of all its competitors, Titanium ORE provides the most detailed data to retailers so they can make smarter decisions in managing debt.
Its open architecture is another differentiator. Germanis said many retailers have debt collection software systems that were developed inhouse or by third parties. Linking those systems with Titanium ORE is easy from a technical standpoint, and the team at CR Software makes it easier by providing implementation support.
"We know that one size doesn't fit all, and we work with each customer to develop a complete solution to meet its needs," he said. "That includes the development to link any systems together for a seamless user experience; training for the technical, business, and customer service users; and consulting on best debt collection practices."
After 25 years in the business, CR Software knows a thing or two about collection. It also has experience helping an array of industries manage debt, from healthcare to government. The state of Mississippi, for example, uses the company's software to manage the collection of tax debt. In fact, the company sells its software to the collection agencies themselves. Germanis said the company's experience with so many different industries all trying to collect debt means it can provide advice for any situation.
For example, he explained the waterfall technique, one that not many retailers use. Titanium ORE facilitates this process, allowing retailers to track debt as it moves from one collection agency to another. Debt from individuals who owe money but have a reasonably high credit score can be kept inhouse and, as some debt is tracked down and repaid, Titanium ORE notifies the retailer so it can remove that data from the flow and save money.
Furthermore, Germanis said many companies don't know why their debt collection process is established a certain way; it was simply set up 10 years ago, and no one has changed it since.
"We ask our clients how they would set up the system if they had a free rein and then develop a way to make that vision work. We also provide measurement tools to show how a new system is more effective than an older system," he said. "That, coupled with the flexibility of our open architecture, means that our customers can continuously adjust their debt collection processes until they find the most effective one for their organization."
Service and support
The support CR Software provides for its customers is mirrored in the support it provides for its employees. Germanis said just as he and his leadership team are highly accessible to customers, they are equally accessible to employees and strive to foster an open, collaborative culture.
Each department goes through regular cross-training to learn what other departments are working on, and even within departments, groups meet regularly to keep everyone updated and involved in the process.
"In our development department, we have our mid-tier, database, and GUI development teams as well as our testing and documentation teams. We want all of those groups talking every day. But we also want them talking to marketing, for example, just as often instead of only once a quarter," he said.
That's why the company takes 15 minutes out of every day to talk about what each department is working on. And every few months, Germanis and his team hold a company-wide meeting to talk about CR Software's growth, challenges, and opportunities. He said especially during the recession, the company has stepped up those communication efforts so employees feel secure in their jobs and proud of the company's success.
In addition to cross training, CR Software provides inhouse refresher training for its developers as new programming tools hit the market, and the company reimburses employees who go back to school to learn the latest techniques. Germanis said one of the challenges of working in the IT industry is how fast technology changes, but he said the company has a solution for its older employees who worked on CR Software's earliest products. Instead of forcing them to learn all the latest tricks, they've stepped into advisory and strategic roles, showing the younger developers the ropes of the debt collection business and explaining why certain programs work and others don't.
"That experience is valuable to our customers; it also makes us a stronger, richer company because we know this business so well. We've seen it change and understand all of its unique features," Germanis said. "With our cutting-edge data security and open architecture, coupled with our reputation for excellence over the decades, we can provide the best of both worlds."