Creatively Classic Activities and Books, LLC/The Elf on the Shelf®
Pitts, her sister, Author and Co-CEO Chanda Bell, and their mother, Founder Carol Aebersold, started the Atlanta-based company in 2005. Previously, Bell and her mother wrote a Christmas story about a magical Scout Elf who sits on a shelf in a family's home and reports on the children to Santa Claus.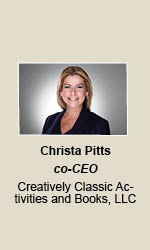 The three founded CCA & B to create a box set that featured the story, "The Elf on the Shelf: A Christmas Tradition," which came with an illustrated storybook and a Scout Elf™ that children could place on their own shelves. Since then, more than 130 million consumers have adopted Scout Elves, while the character has been featured annually in the Macy's Thanksgiving Day Parade since 2012.
Its product line also has grown, with items such as its Elf Pets® brand, a product line featuring plush pets that also come with their own storybooks that give answers to some of children's most common questions about Santa's North Pole. But the company has not stopped there.
"We have so many cool things going on [at] the North Pole," Bell says, explaining that CCA & B is adding more characters through its "Elf Pets®" line and is building its own entertainment business.
These include a live show it has developed in partnership with Mills Entertainment, as well as an animated Christmas special, "Elf Pets: Santa's St. Bernards Save Christmas," also set in the North Pole Universe. "All of that comes from in house, of course," she says, explaining that CCA & B has its own production company.
Immersive entertainment also is a focus for the company, which has driven it to partner with Gaylord Hotels and take part in its scavenger hunts and character breakfasts. "As long as it fits with our desire to make a strong family moment, then that's what we're looking for," Pitts says.
Product Pride
CCA & B has robust licensing programs that have included co-branded products with Hershey's, Jeep and Kellogg's. "We've been able to successfully work our brand and its message of kindness and hope into products," Pitts says. "With the Licensing Show coming up, we'll be looking to work with more of those brands."
The company also has new products such as its Claus Couture Collection®, which was inspired by a drawing created by Bell's son of a jersey for his own elf. This led the company to develop clothing that users can buy to help their elves show their distinct personalities.
"You could lay these clothes out for your elf and he will put these on before he makes his journey back to the North Pole," she says, noting that it also has introduced Scout Elves at Play® accessories products, including tools, inflatables and many other props and scenes for Scout Elves.
The company also plans to launch a new advent calendar where consumers receive balloons each day. While one side of the balloon features a countdown to Christmas, the other is designed to look like an ornament. "We imagine it hanging on Christmas trees, garland and wreaths," Bell says.
Forged in F.I.R.E.
One of the driving forces at CCA & B is its "F.I.R.E." business philosophy. "F.I.R.E. is really the core of who we are," Bell says, explaining that the acronym stands for Family Focus, Integrity, Respect and Excellence.
"We hire people who have those values because it's what the North Pole is about," she continues, adding that these values trickle down from the company's management. "The goal is [to be] authentic and it resonates with the products we put out."
Pitts agrees, noting that this has led CCA & B to make sure its employees have a fulfilling life outside of work. "We want to make sure they be there when they need to be for their children's soccer game and parent/teacher conference," she says.
Pitts and Bell see a strong future for CCA & B. "Our vision is to actually own Santa's North Pole," Bell says. "We do that through our immersive products and experiences. We have a lot of stories to tell.
"There are millions of elves and millions of our Elf Pets® that are unique to the families that have adopted them, as well as the characters that we have to tell those stories," she continues, noting that the company also has its eye on international business. "We are already in several countries."