David Yurman Announces Opening of Toronto Boutique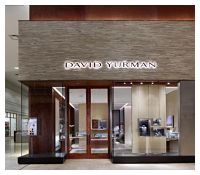 Dec. 12, 2013 – David Yurman, America's premier fine jewelry and timepiece designer, is pleased to announce the opening of its Toronto boutique at The Yorkdale Shopping Center on December 12, 2013. The Toronto boutique will be the brand's first in Canada.
"We're proud to make a home for ourselves in Toronto," says David Yurman's President, Chief Commercial Officer, Carol Pennelli. "The decision to expand into this market was driven by a loyal and avid following of Canadian clients that have been shopping with us for years in the US. We're thrilled to be a part of this diverse and vibrant community, and look forward to introducing our brand to an entirely new customer base."
Conceptualized by the renowned architectural firm of Gabellini Sheppard Associates, the flowing 1,837 square-foot store features architecture that is classically modern. Every element of the interior thoughtfully reflects design features that are symbolic of the brand's luxurious, yet relaxed aesthetic.
The boutique will carry all of David Yurman's classic collections such as women's gold, sterling silver and Silver Ice, men's, Cable Kids and timepieces. Special one-of-a-kind jewelry pieces, limited edition fine jewelry, and wedding collection pieces will also be carried.