A.A. DeFehr founded DeFehr Furniture more than seven decades ago from his basement where he first mastered his craft. In those years, quality and service were the foundations of the business. Today, the company maintains those values while striving to create interesting, durable products. "We specialize in retail case goods, mainly bedroom, entertainment units and home office furniture," CEO Philip Klassen says. "We also produce furnishings for the hospitality industry and have furnished more than 10,000 hotel rooms around the world."
Klassen is the first non-DeFehr family member to hold the position of CEO, which he accepted about three-and-a-half years ago. The third-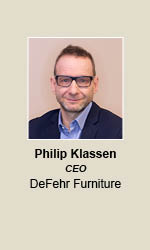 generation of owners decided it was time to find an outside person to come in and oversee the operations. "I had been with an import company for 10 years and that's really how most furniture is flowing these days," Klassen says. "I felt the attraction to joining a made in Canada story and all that goes along with it. It's pretty appealing because we employ Canadians, have more control over manufacturing and quality, and can offer a higher level of service. We operate very directly with our retail customers and work collaboratively to create products that best fit their targets for style and price. We don't operate as a middle man."
Loyal Relationships
DeFehr Furniture prides itself on being honest about the value of its products to its more than 200 retailers throughout Canada. "From an importer, retailers don't always know what they are getting," Klassen says. "We are much more transparent about construction and materials, and buyers appreciate that value. Being in Canada, we are right here when something goes wrong and can handle the problem and make it right. Because of that, we have a lot of long-term relationships with retailers and suppliers."
The company's relationship with its employees is just as important. "It's all about keeping long-term employees here," Klassen adds. "As a manufacturer, you are totally dependent on your workforce to make anything happen. Right now, we have a lot of tenured employees and it will be a challenge to replace the many years of experience as they retire."
As DeFehr Furniture's team members retire, the company will focus on transitioning people into new roles and training new hires to maintain its production levels. Because of its focus on health, safety and training, DeFehr Furniture was the eighth company in the province to achieve Made Safe Certification, a provincial initiative created to drive health and safety improvements in manufacturing environments.
DeFehr Furniture's culture can be explained as a no-nonsense, practical approach to work. The company relies greatly on its people's experience and expertise to get the job done right and as efficiently as possible. "We are anti-gimmick and don't adopt a lot of the jargon, keeping it a no-nonsense and practical approach," Klassen says. "That approach has gotten us to where we are today."
Green is Good
DeFehr Furniture believes providing the highest quality case good furniture in North America means putting innovation and environmental stewardship first. Environmental stewardship is embedded in its manufacturing processes and plant through a variety of different initiatives. "We aim to use as much local and sustainable material as possible," Klassen says. "For example, our Manitoba Jack Pine is one of our most commonly used materials and is sourced less than 200 kilometers or about 124 miles away from our plant, purchased from a family-run saw mill."
To minimize landfill waste, DeFehr Furniture has virtually eliminated the use of Styrofoam in its packaging and reduced its use of cardboard by adopting a cap and tray technique, which only packages commercial products with corner pads in lieu of boxes. It also recycles 95 percent of the wood waste the plant generates every month. "We have a wood boiler and burn our own wood waste, which if we didn't have that we would burn natural gas," Klassen explains. "That prevents wood waste from going to the landfill."
Over the last two years, DeFehr Furniture replaced more than 750 incandescent light bulbs with LED lighting, which uses much less energy. The lifespan of LEDs is much longer, decreasing the need for replacement.
Refreshed Look
DeFehr Furniture is embarking on a massive product replacement agenda with key retailers to supply them with new looks over the next 18 months. Product lifecycles range from five to 10 years, depending on the piece. "The product could be a long-term success or it's going to be a one year and done kind of thing," Klassen explains. "We have a lot of products in our lineup that are over four years old and in the back half of their lifecycles. We have new products coming out all the time and debuted new groups at recent tradeshows in January."
DeFehr Furniture creates exclusive product lines with and for each major retail group, so they have something special to offer to the market place. When it comes building pieces for the hospitality industry, DeFehr Furniture builds it to the company's specs. DeFehr Furniture's business is mostly comprised of selling to retailers and about one-third focuses on fulfilling the needs of the hospitality industry.
The company updated its website to make it livelier with an updated logo. "The old look was pretty tired, so we gave ourselves a facelift and I think it does a better job at highlighting the product and sharing our made in Canada story. It's a unique story considering how much product like ours comes from offshore and I think retailers and consumers now more than ever are interested in buying local," Klassen says. "We have a good story to tell, and want to make more of an effort to tell it."
As the retail landscape continues to evolve and e-commerce continues to gain greater marketshare, DeFehr Furniture says it will remain loyal to its brick-and-mortar retailers. "Distribution changes between retailers and the dot com people is a tricky thing to navigate," Klassen says. "We will continue to support our existing retail partners in their traditional distribution patterns."