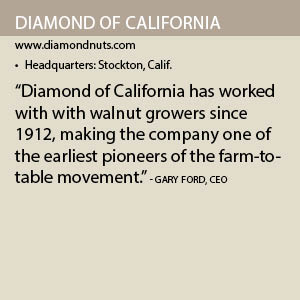 Walnut growers harvest their orchards in the fall and transport the nuts to a cleaning facility where husks are removed and nuts are air-dried to protect freshness. From there, the high-quality nuts are transported to Diamond's facility where they are received for either in-shell or shelled uses, and are packaged before heading to grocery store shelves. "We believe that nuts make good food even better," Ford says. "That's why we have offered fresh, high-quality and great-tasting nuts that are truly 'Made For Homemade' for over 100 years."
'Made For Homemade'
Diamond of California has a core group of consumers who have grown up with the brand. "I think our biggest challenge as a company is continuing to align with this consumer while also finding ways to update ourselves in rapidly changing times," Ford says. "That is why we decided to do a major brand redesign with our new bold red packaging just last fall."
The new design is an example of how Diamond of California pays homage to its legacy while embracing an updated aesthetic, Ford says. "While very different than our previous design, the rebrand still showcases our pride in the roots of our brand with details like profiles on our farmer partners and our own classic recipes," he adds.
Diamond of California's "Made For Homemade" tagline is the inspiration for the new packaging design. With each area that is highlighted on the back of every bag, the brand presents its product as the ideal ingredient for home-cooked meals. The new packaging includes the company's mission of delivering quality ingredients, a classic recipe listed for everyday cooking, tips on properly storing the nuts for maximum freshness and a special tribute to some families who have grown its nuts for generations.
Heirloom Reserve
Diamond of California has also added new products to bring in a new generation of consumers. "Now more than ever, people are becoming more and more adamant about knowing the nutrition and origins of the food they consume," Ford says. "In response to this, we launched Heirloom Reserve this past October.
"This new line of heritage nut varieties includes walnuts, pecans and marcona almonds that possess natural irregularities that are ripe with bold nut flavor," he continues. "The line celebrates the cherished farming techniques that have been passed down over generations while offering something new for the nut category."
Launching products in the Heirloom Reserve line will continue through 2018 as the company continues to focus on securing retail partners while experimenting with various ways to expand on the line. "People turn to Diamond of California to supply them with the best recipe nuts for home cooking and we feel that Heirloom Reserve offers wonderful flavor and texture in any dish," Ford says.
Moving forward, Diamond of California will continue to "delight" its core customers while attracting the next generation of consumers. The company will achieve this through a combination of brand marketing through influential partnerships and social media, highlighting its brand redesign and product innovation that adds value to core and new users.
"Product innovation, like Heirloom Reserve, is a way in which we can further energize the nuts category by appealing to today's consumer," Ford says. "Along with the core product we will always offer, having new premium offerings keeps the brand relevant within the changing market.
"To gain leverage for these new products, we have ongoing partnerships with leading food bloggers and chefs based in various regions of the U.S.," he continues. "By having these influential brand ambassadors who champion our products, we are reinforcing ourselves as a leading recipe nut brand."