Diana Jenkins Brings Neuro Health Drinks to Target Stores Nation-wide.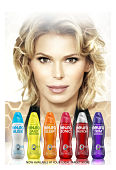 June 19, 2013 – Neuro is a new line of drinks designed by entrepreneur Diana Jenkins to physically and mentally enhance people's daily lives. Jenkins assembled leading scientists and nutritionists in her Malibu "kitchen" to create a revolutionary beverage line that conveniently provides essential nutrients for the modern, overtaxed consumer. Neuro drinks are currently available at Target, Walgreens, Safeway, Seven Eleven and other national grocery, drug and convenience stores.
The Neuro line is comprised of six different uniquely formulated drinks: Sonic, Passion, Trim, Daily, Bliss and Sleep, with each offering a different benefit (boosting mental performance, reducing stress, promoting restful sleep, etc.). The eye-catching, fully recyclable Neuro bottles have only 35 calories and no artificial colors/flavors.
Neuro has rapidly become the drink of choice among elite Hollywood stars looking for an intelligent, sexy, healthy drink with a purpose. A new custom designed Neuro social media app is also available that allows users to find the nearest Neuro retailer using any mobile device.
Originally from a small town in Bosnia, Diana Jenkins is a philanthropist, global activist, entrepreneur, war refugee, and mother of two.