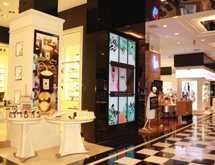 Although digital screens have been deployed in a variety of retail applications – such as menu boards in restaurants, digital end caps in electronics stores, directory boards in malls and digital mannequins in clothing stores – they have been used as a way to run advertising of products and goods with very little integration into store systems.
Those retailers that have integrated digital screens focus mainly on inventory databases and their point-of-sale systems to capture customer data that can be mined to better align with customer preferences. Furthermore, many retailers utilize traditional kiosk systems that allow for online ordering, guest registry access and even for hiring future employees.
What many are missing, though, is how to utilize their systems and capture customer interactions in order to create a full engagement between the brand and the consumer. When looking at interaction and engagement, there are three types: passive, active, and mobile.
In the restaurant space, many brands have deployed customer-facing kiosks where people can place their orders and learn about specials without any human interaction. This is an active way for the brand to interact with the consumer, and increase sales and efficiencies.
Following more of a passive way to interact with the consumers, others have deployed "order-ready boards," where patrons are informed when their meals are complete. While guests wait for their food, they have become a captive audience, a fact not lost on these businesses, which are cross-marketing and up-selling various services and goods to them.
Interactive wayfinding kiosks in malls, hotels, airports and other retail businesses let consumers print maps and coupons, make dinner reservations and purchase goods and services. This creates an engaging experience, even if for only a few seconds, that allows the consumer to fully experience the brands.
Mobile Interaction
Forward-thinking businesses also are letting consumers use their smart phones and tablets to interact with digital screens, kiosks, store end caps and video walls. Many top restaurant brands have created iPhone and iPad apps for ordering food selections and counting calories – and through near field communication, enabling interaction with digital screens themselves for scanning QR codes, downloading coupons and making purchases.
Additionally, many retailers are using these applications to create a virtual store-within-a-store concept. A consumer can pull up reviews, check inventories, place orders, and in some cases test-drive a product, all via their smart phones and tablets.
Best Buy, for example, has introduced interactive kiosks in airports to sell iPods, headphones and other technologies. It's the big-box retailer's way of meeting the needs of the marketplace by giving people options on how and where to buy. At the same time, it continues to offer its bricks-and-mortar and mobile stores.
Apple has done a phenomenal job of making sure that before a buyer can close out a sale online, in a store or through its iOS application, that options for cables and extended warranties appear and are part of the sales equation. That breeds additional sales.
More Progress Needed
While these are some of the best practices, the retail industry still has to make progress, according to a recent study. SapientNitro's Insight 2013 Report indicates that most retailers are failing when it comes to deploying digital signage and interactive technologies. Just 22 percent were rated as truly interactive with a value-add beyond just merchandising or a display.
Here are three ways to make the interactive experience more relevant for those using interactive technologies:
Deliver the right content and messaging to consumers;
Design a technologically sound kiosk that people will be drawn to;
Deliver a meaningful experience.
If the interaction with a kiosk or digital screen is "bumpy," or if consumers have to scroll through too many products to place an order, they will walk away. They must be guided through the process with a series of questions and interactions, and their time must be respected.
An interactive system built on good design, tied to other sales channels and offering a solid customer experience will increase sales. Here are the questions retailers need to ask themselves before deploying interactive digital signage:
What are our goals and strategies?
How will we execute the plan?
How will we measure results?
Who will support our interactive system?
How will we expand the deployment?
What types of technologies will be used?
Who will manage the content?
How do we keep the content fresh and impactful?
The question is not whether to deploy interactive technologies, but when, and to have the plan in place to do so. Watching young children interact with technology is a particularly noteworthy barometer. Whenever they encounter a computer screen, their expectations are that it is interactive. A touch mentality with devices is so ingrained in this generation that it should give retailers pause. These little patrons eventually will form a digital interactive society.
Richard Ventura is director of sales – vertical solutions for NEC Display Solutions (www.necdisplay.com). He can be reached at rventura@necdisplay.com.