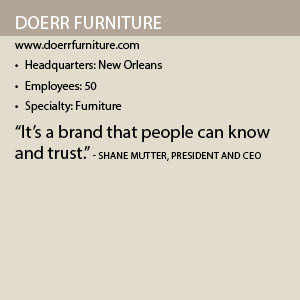 Doerr Furniture offers a personal touch that few competitors can match. Customers are encouraged to bring in house plans, paint colors, flooring samples and other details that can help Doerr Furniture's expert salespeople find the fit match and look whether they are redoing a single room or the entire home. "We try to fit something into every room for the client," Mutter says. "Our design staff works hand-in-hand with the customer or sometimes the designer."
Family Company
The Doerr name was a fixture in the New Orleans furniture market even before it was made into a now-historic neon art deco sign hanging over Burgundy Street. Charles Doerr, Mutter's great grandfather, started out making rocking chairs in the building that would eventually house his namesake store. The rocking chairs soon led to a wholesale business, which in turn led to a moving company and eventually the furniture shop.
In the eight decades since, Doerr Furniture has become known as one of the leading furniture retailers in New Orleans. "It's a brand that people can know and trust," Mutter says. "For 80 years, the same family has been running the operation, as opposed to going to a corporately-owned store where the employees working today might not be there tomorrow."
It's those employees who provide the strength that has allowed Doerr Furniture to endure through four generations of family ownership. "We treat them as family and work hard to make sure that their customers are treated the same way we want to be treated," Mutter says. Most of the sales staff has been with the company for a long time and they know their customers well, often working with the same buyers over many years.
It's not easy to find those kinds of skilled employees. When hiring, Mutter prioritizes communication skills and wants people who have long-term goals over resume accomplishments. "In sales, the personality you have or the way you present yourself a lot of times is a very key factor in whether or not customers are going to do business with you," Mutter adds. "The people that I have recently hired, within the last five years, those individuals have turned out to be extraordinary salespeople and two out of the three had no prior experience in furniture. It was really their work ethic and personality that won me over."
That expertise and loyalty is unusual in the retail industry, which is why Doerr Furniture takes care to create a family-style environment that encourages its employees to stay. "We have a family business and you understand there's quality of life issues when it comes to employment," Mutter says. "We try to be flexible with our employees and our employees' lives."
Commitment to Quality
Ultimately, treating employees well leads to happier customers, but it's the quality of Doerr Furniture's sofa, chairs and dining rooms tables that makes them repeat clients. "We have a nice assortment [of products]," Mutter says. "I like to say we're middle to upper end, focusing on quality at all levels." Price doesn't necessarily dictate quality, so Doerr tries to find a range of items that suit every kind of customer. "If it's a $2,000 sofa but it's completely junk it's not going to be on my floor."
The store caters both to high-end clients with a second home in the French Quarter and young families with small children looking for affordable living room sets that will hold up over the years. "I can bring in a lower-priced sofa or love seat but I just want to make sure it's the quality my customers have come to understand," Mutter explains.
Doerr Furniture's commitment to quality begins long before the products arrive in its store. The company strives to visit many of the manufacturers it works with to solidify its relationships and conduct quality checks in person. Doerr Furniture's dedication to understanding the products it sells is why manufacturers such as Stickley Furniture, Palettes by Winesburg and Daniel's Amish entrust their pieces to the store.
"We make sure that the relationships we have with our factories are relationships we want to keep for years from now," Mutter says. "It's like a marriage with these factories, so it's very hard for any new company to come on board with Doerr Furniture because I have these wonderful relationships."
Second Store
After 80 years operating in a single location, Doerr Furniture expanded its footprint for the first time at the end of December with the opening of a second store in Covington, La., a historic suburb north of New Orleans. "I'm seeing where there's a shift in the growth of Louisiana in our marketplace," Mutter says. "The location I've selected I felt was in need of high-quality home furnishings. I felt our products could fit the need very well."
At 11,000 square feet, the Covington store is about a third of the size of the original Doerr Furniture; however, Mutter contends its better suited for the business, which is more focused on designing custom furniture and requires less on-site inventory. Online sales have further reduced the need for large shop floors. "In the current retail environment we're living with, if you're opening a brand-new store it's a little more important to focus on a small scale than we're used to," he says.
It took a while to find the right location, but Mutter says everything fell into place shortly after the site was finalized. The biggest challenge was merchandising the location effectively to account for the demographic and socioeconomic differences in the market. Much of that responsibility fell to Merchandising Director Amy Freese, who found the right mix of products and organized their presentation within the store. "It was an amazing thing to set up a store like that and see it all come together in a three- to four-week period," Mutter says.
It seems counterintuitive to expand the brick-and-mortar retail business when online sales are only becoming more prevalent, but Mutter believes seeing a new sofa or dining table in person before buying is still the best way to ensure customer satisfaction. "The conversations I've had with factories are that some of these online retailers are getting 15 to 20 percent in returns and to me that is a bad business model," he says.
Doerr is investing in its internet presence, but instead of online ordering, the company is putting its effort into making sure all its products are listed on its website. That way, customers can browse its listing and call the stores directly to place an order or show up in person to see it for themselves. "We're definitely spending more time and energy and money on our website, constantly updating it," Mutter says.
"What I find is that if we can continue to create a need or create a niche and do it well – and let people know that's what we are and that's what we stand for – we'll still be successful in our endeavors," he adds.