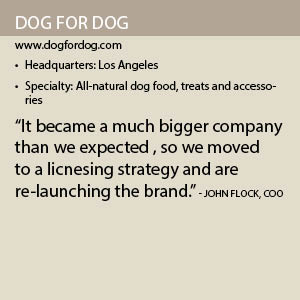 The Los Angeles-based company launched in 2010 as FreeHand and later became DOG For DOG. Because of its mission, DOG For DOG instantly appealed to celebrities like Michael Bublé, Snoop Dogg, Chelsea Handler and Amar'e Stoudemire who have become shareholders and investors in the company. "What's unique is that all the celebrities are investors and owners in the company rather than paid spokespeople," Flock says. "They are doing it inspired by their own passion and commitment to the brand and its mission."
In 2013, Handler and Snoop promoted the brand on her E! Network talk show, Chelsea Lately. Handler even took a few bites of the food in the show's "green room" during a promotional skit with Snoop. Handler was not the only human sampling the treats because many of The Hollywood Reporter's subscribers took a bite out of DOG For DOG's "DOGSBAR" treat when it came plastic-wrapped with an issue of the magazine.
"We stuck a DOGSBAR in a bag with each magazine, but a lot of the subscribers didn't look at the ad, and assumed it was a free snack bar," Flock remembers. "A lot of them ate it and The Wall Street Journal did an article about the many people – who remained anonymous – including a TV studio president and a New York Times correspondent, who admitted to eating it."
DOG For DOG generated such an enormous buzz from 2010 through 2016 that Flock says it is arguably one of the fastest-growing dog food companies in the country. "We saw significant growth from January 2016 when we were doing about $360,000 in revenue to December 2016 when we were doing almost $1.7 million in revenue," he adds. "We saw a straight line up in terms of revenue."
Launching an Empire
DOG For DOG has more than 20 different products that contribute to the health of dogs. Some of the company's products include DOGSTREAT, DOGSFOOD, DOGSBUTTER and DOGSBAR. "As we've demonstrated, our dog food and treats are high enough quality for humans to eat," Flock quips. "But seriously, the DOGSBAR, for example, is ideal for malnourished dogs and gives them a lot of critical vitamins and minerals. It is a 100 percent natural peanut butter nutrition bar for dogs but healthy enough for humans to eat."
The company also created a line of toys, beds and dog accessories and donates to a dog in need for each item purchased.
DOG For DOG has been sold in more than 15,000 stores nationwide and has had premium end cap placement. The company's social media campaigns have created more than 200 million media impressions. DOG For DOG has 188,000 Facebook likes, which is one of the largest social presences in the industry, and #DOGFORDOGPAWS has more than 60,000 user-generated posts on Instagram.
DOG For DOG also created a national television show, Save Our Shelter, to promote the brand. Fully funded by the company, the show airs on The CW in the United States and on Freeform, formerly known as ABC Family, in Canada. "We have 1.2 million viewers every week and it's like Extreme Makeover: Home Edition for shelters," Flock explains. "We worked with a shelter that was run down or at risk of being shut down and donate a lifetime supply of dog food to them. We are going to be launching an enhanced show next season."
To date, the company has donated more than two million pounds of dog food to shelters. DOG For DOG's goal is to feed more than 16 million dogs in 2018.
Brand Revamp
Because of the tremendous support DOG For DOG received over its first six years, the company exceeded expectations and was growing faster than anyone predicted. "We were doing everything from shipping and fulfillment to launching internationally. We needed to pivot and turn to our exclusive licensing agency, All American Licensing, that has the experience, knowledge and know-how to take us to the next level," Flock says. "We started with a concept to help dogs in need and it became a much bigger company than we expected, so we moved to a licensing strategy and are re-launching the brand this year."
DOG For DOG will turn to its licensing partners this year to help run daily operations, social networking and celebrity branding, and to bring on additional dog celebrities/activists to endorse the brand. Most recently, DOG For DOG has signed on two new licensees. The first The G-Mason Company, whose other brands include AKC, Animal Planet and Nickelodeon, for a comprehensive line of pet products from crate mats and toys to training pads. The second is Tzumi Pets, who will market a robust assortment of dog food and treats.
All American Licensing brokered the two deals. Additionally, the company recently launched a new website, www.dogfordog.com, to support its efforts and is developing a new retail strategy.
"The growth plan is that the team will work with the retailers to educate them on DOG For DOG, the food and the mission, as well as why the food is better for dogs," Flock explains. "We've had great success and we expect we'll be met with open arms by retailers again, selling multiple SKUs."
During its break from the marketplace in 2017, DOG For DOG supplied its customers with what it had remaining in inventory and communicated its strategy of pulling its products from retailers for one year. "Going forward we want to create a much more robust online community that helps as a sales tool," Flock says. "Dog food is not currently a huge online selling item and we obviously want to change that, where consumers can more deeply interact with our brand."
The company plans to harness the power of its celebrity stakeholders with in-store visits and promotional videos to renew excitement over the brand. In the future, DOG For DOG expects to expand the company beyond helping dogs with its CAT For CAT brand and to ultimately help all shelter animals. "We hope to push the industry to a higher standard of quality while helping dogs at the same time," Flock says. "While we can't patent our business model, we want to cement our position and reputation as a first-mover in this space."