By Janice Hoppe-Spiers, Senior Editor at Knighthouse Media
Dorna Sports is an international sports management, marketing and media company that has been the exclusive commercial and television rights holder for MotoGP™ since 1991. The company prides itself on being a global elite motorsport company and continues to expand its racing portfolio.
"The success of the company is based on the passion and dedication of everyone who is involved in the projects," says Pau Serracanta, managing director. "That starts with our CEO Carmelo Ezpeleta who has managed the company for 26 years and never missed a single Grand Prix. Our main product is organizing and managing the MotoGP™ World Grand Prix Championship, and we have 19 races per season."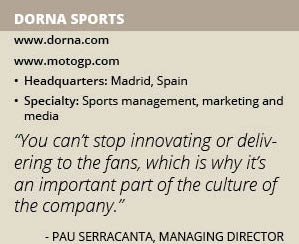 MotoGP™ is the oldest motorsport championship in existence, starting in 1949 when it was inaugurated as the FIM Road Racing World Championship Grand Prix. Its 19-round season visits a total of 15 countries across four continents, showcasing the world's fastest motorcycle racers in three categories: Moto3™, Moto2™ and MotoGP™ World Championships. "MotoGP™ is the best motorcycle racing show on earth, featuring the best riders on the planet riding the most technologically advanced and fastest prototypes in the world," Dorna Sports says.
Headquartered in Madrid, Spain, Dorna Sports created the licensing program for MotoGP™ a few years after acquiring the rights. Phaedra Haramis, licensing director for the commercial department, says in the late '90s the program really took off. "It began from a demand for delivering fans official merchandise at the races and videogames for their homes, and these two categories although they have evolved considerably, still constitute two of the main pillars in our licensing program today," she says. "Today, we have over 70 licensees producing thousands of SKUs worldwide."
Dorna Sports continues to expand its licensing program to include a variety of other categories that appeal to young males, who are its target consumer. For example, Tissot extended its deal with Dorna Sports to be the official timekeeper and watch of MotoGP™ until 2022 and Oakley is the official eyewear licensee. "We also have a whole range of licensees that are not so closely lined with the grand prix themselves, but want to enhance their product by associating themselves with MotoGP™ and the values it represents, such as through casual and apparel collections, gifts, accessories, back-to-school items, outdoor toys and games," Haramis says.
Popularity in Licensing
Sports have always been popular in licensing and have become even more so because they are more stable and linear than the entertainment industry, for example, which can be more volatile Haramis explains. "We also have an advantage because we have an extremely loyal fan base," she says. "Ninety percent of our spectators will come back to watch a future race and that creates tremendous loyalty to the brand and sport."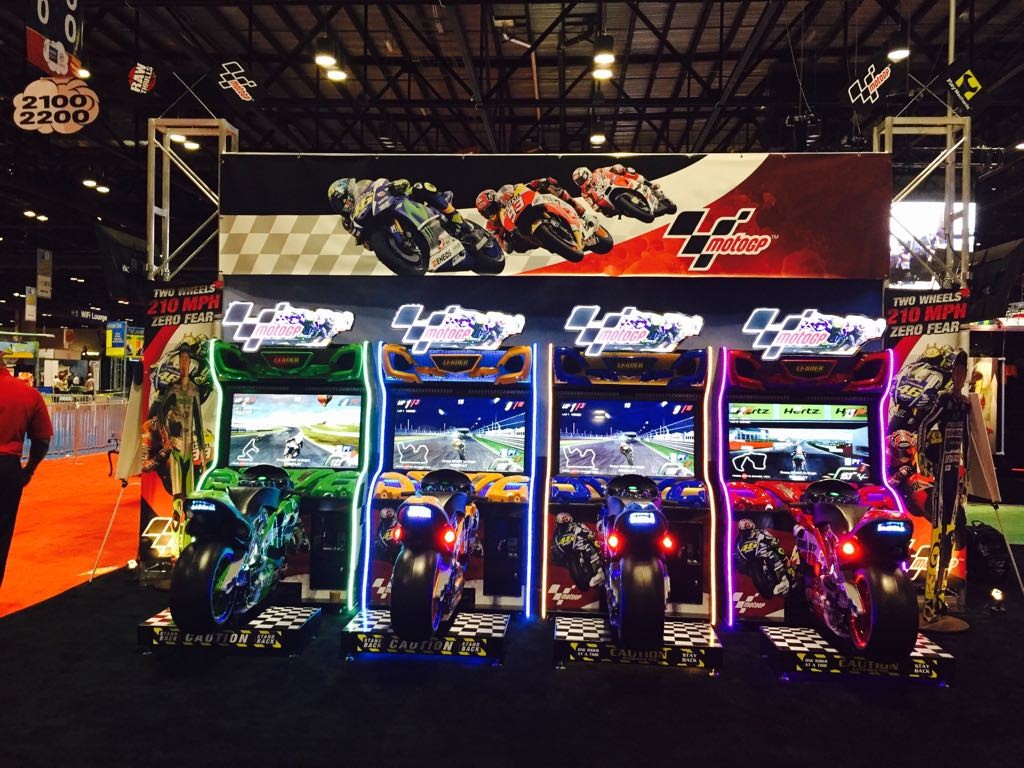 Promising a loyal fan base allows Dorna Sports to build long-term relationships with its licensees. For example, MotoGP™ is the perfect vehicle to be applied in the form of digital product because of its pure entertainment value. This has resulted in the successful creation of a range of simulation video games for arcade, mobile and console platforms.
To take the video game one step further, Dorna Sports was the first in the world last year to gather together 16 of the fastest players for the ultimate MotoGP™ eSport Championship. The live Grand Final was held in November and two hours of coverage was broadcast worldwide to more than 190 countries through key MotoGP™ broadcasters, as well as on motogp.com and YouTube, Facebook, Twitch and Twitter.
The MotoGP™ eSport Championship received more than 25 million video views and reached more than 58 million people globally in its debut year. "Having crowned our first 'World Champion gamer,' we know we have many more opportunities to expand and grow in this arena," Serracanta says. "We will continue to evolve and support our annual eSport Championship with exciting features and experiences for our gaming fans."
Continuous Innovation
Staying innovative is key to Dorna Sports' success in the motorsports industry. "I think one of the challenges we have in sports licensing is ensuring style guides and materials are updated frequently to overcome the seasonal aspect of teams and riders changing from year to year," Haramis says. "We must give our licensees constant support and guidance, especially during product design stages as this is one of the keys to successful sales results."
"Passion and dedication is what we have and we are always trying to innovate because the format of the product is simple: You have 24 riders on a motorcycle and whoever drives the best and fastest is the winner," Serracanta adds. "You can never stop innovating and meeting fans expectations, which is why it's an important part of the culture of the company."
Dorna Sports recently invested significantly in new cameras for its bikes. "We want the footage we produce to be as precise and as versatile as possible to deliver live to the television stations," Serracanta says. "We developed a camera with a 360-degree view that you can watch during the race from the bike. It's a whole new view and we were the first to do it. It's quite special and broadcasts live."
Dorna Sports and MotoGP™ are also hoping to start a revolution next year with the world's first electric motorcycle racing championship. "This year we are doing all the developments of the bike and have been doing demonstrations and tests with former MotoGP™ riders," Serracanta says. "We want the motorcycle to be as clean as possible and charged with renewable energy, so the big challenge is to have access to the green energy at the grand prix locations, but we are working on it to make this possible."
Moving forward, Dorna Sports does not see electric motorcycles replacing the existing petrol-fueled engines, but Serracanta says it is another option for mobility and racing. "We don't ride horses to get around today. We use cars to get around, but we still have horseraces today," he explains. "Maybe in the future people will use electric motorcycles for mobility, so we need to have the ability to be able to reflect this and be ready in MotoGP™."