Dr. Denese Six Step Skin Care Line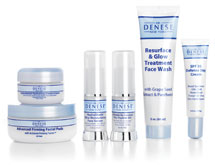 Aging gracefully used to mean letting Mother Nature, genetics and lifestyle dictate how our bodies changed over time. But that approach is quickly becoming obsolete, giving way to a new attitude on aging that has people working hard to look and feel young as long as possible. For the age fighters, there has never been a time with more advances.
Dr. Adrienne Denese has devoted her entire career as a physician to helping her patients fight the signs and side effects of aging. She has achieved professional and financial success by helping people not age, gracefully.
Rags to Riches
Denese arrived in the United States from her native Hungary in the late '80s. She had $40 to her name and knew nobody in the country, but she also had a PHD in neuroscience and the drive and dedication she needed to succeed. Through hard work and pure motivation, she earned a scholarship to attend Cornell Medical College.
In 1997, when she graduated from medical school, she decided to follow her passion for anti-aging medicine and opened a clinic in a hot spot in Manhattan. "I was obsessed with the idea of helping people look and feel younger as long as possible," Denese explains.
Denese became popular in her centrally located clinic. "I had all the best people, wonderful patients from the neighborhood that had decided not to grow old too quickly," Denese explains. Those patients soon started asking her to complement the anti-aging treatments with lotions they could use for their skin.
The doctor then started thinking of developing a line of lotions to help her patients. "I put together my medical knowledge and my understanding of science and came up with some products that went on to become very successful."
Two months after she opened her practice, the New York Times Sunday edition ran a piece on her. By Tuesday, she was on "Good Morning America."
Her notoriety and the demand for her products put her on QVC in 2002. "The first time I went on QVC we sold out; we sold out the second and third time too," Denese recalls. "The results of the lotions were so profound that people wanted to continue using them."
Ten years later, Denese continues selling her line of products through QVC. The company generates $50 million in revenue annually and has more than 130 SKUs.
The Secret Sauce
When asked about the secret of her success, Denese does not hesitate to point out at the quality of her skincare line. "The most important thing is that they are high-performance products," she explains. "You don't have to wonder if they're really working, you look in the mirror and you see the results. That is the reason people come back, it's the results."
Denese makes sure her line of skincare has the highest concentration of active ingredients. "Most companies don't like to do that because it costs a fortune, but it's the most important element in a cream or serum," she says.
Denese says she doesn't care about the cost because her focus is to make the best products possible. Denese has plans to continue expanding her brand and introducing new products in retail markets. "We are going to double our distribution starting in 2013, with a focus on the product's quality," she says.