"We conduct very in-depth analysis of trends and what's coming down the pike in terms of popularity and how is the market responding to up and coming trends," Director Patricia Gates says.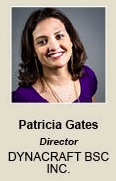 Dynacraft was founded in 1984 by Jerry Berman and Philp Tong in Ashland, Mass. The company moved to American Canyon, Calif., but seven years ago began planning to relocate to Savannah, Ga, a move it completed in January of this year. Dynacraft invested $40 million in a 520,000-square foot building, 20,000-square feet of which will contain corporate offices.
"It will allow us to be more limber and fulfill product orders at a more rapid pace," Gates says.
Throughout its existence, Dynacraft has sold more than 150 million units. Gates attributes that partially to the company not resting on its laurels. "We show up every day to innovate," she says. "We are always looking for what comes next. We are never really comfortable with today."
Managing Director John Bisges echoes that concept. "We are looking five to 10 years out on the retail landscape," he says. "We started our approach of today five years ago by taking a cloud-based approach with all our information. Being able to understand what the retailer's needs are and how to fulfill those needs and the manufacturing side."
Innovative Firsts
Staying ahead of trends can be difficult. "It's challenging to keep your competitors from coming in behind you," Bisges says. "Doing knockoffs or underpricing you on the same types of product."
Gates echoes that thought. "When you are first, there are a lot of copycats that come behind you," she says. "We were the first with the ride-on for the pre-school category. That was two-and-a-half years ago. Now it's getting copied by everyone and their brother."
While there is competition in Dynacraft's branded merchandise, Bisges says Dynacraft has the edge. "Our ability to understand licensors and the way we bring the product to market with the licensor brings credence to why we are one of the bigger brands," he says. "Our proven history of understanding a licensor's need in the category and what their wants are in the marketplace is really all about us truly understanding their brand."
Gates agrees. "We try to design to the audience that [licensors] are trying to reach," she says. "A bike is a bike is a bike until you add something fun or of value to it."
For example, Dynacraft started with animals that can be ridden such as horses and unicorns for its battery operated ride-ons and scooters. "We take products like that and not only come up with an initial product but see how the product can transform the licensor," Bisges says. "We handpick lines that make sense for that product. We bring the product to [potential licensor] with innovation and tell them how the license could fit with the product. We are not just looking for the same old bikes and ride-ons. We are looking for new ideas in the marketplace and expanding them."
Over 35 years in business, the retail landscape has changed. "We were buyers in the day when there were hundreds of retailers," Bisges says. "A lot of companies have gone out of business. Now there are a handful of retailers."
While brick-and-mortar retailers move the largest percentage of the company's products, online is the most rapidly growing sales channel. "Today we have a solid presences on Amazon and other .com business have followed suit," Bisges says.
Those include Hayneedle.com, Overstock.com and along with the stores and websites Walmart, Target, Dick's Sporting Goods and Kohls.com.
Dynacraft keeps in mind that stores and online sales are intertwined. "Everyone who enters a store is doing so with a mobile device," Gates says. "They do research. We have to educate consumers."
As Dynacraft continues to look towards the future they have entered into a dedicated partnership with Shadburn Studios to develop quality and relevant digital content for their products that will reach global audiences across multiple social media platforms.
Recruiting Fun People
Dynacraft doesn't find recruiting to be much of a challenge. It partners with the Savannah College of Art and Design for internships and has a wait list for some of its other positions.
"We try to bring in the right people to create the culture," Bisges says. "It's not always talent-based. "We will pass on a bit of talent if the person is right and fits our culture."
That culture is partially about fun. "We make fun products so we try to make everything we do fun," Gates says.
The company's strategy of recruiting seems to work. "Our retention rate is very high," Bisges says. "Employees have the autonomy to offer ideas, create new things and be heard. People have a real sense of having value and being able to add value."
The company also automates where possible. Dynacraft is working with Crossgate Logistics to automate picking and packing of smaller items, meaning any product that will fit in a 24-by-18 inch box. "It enables the fulfillment operations to be a lot smarter," Gates says.
Bisges notes this is an example of Dynacraft's ability to stay ahead of the market, of which he is proud. "Our innovation on products and our ability to adapt to an ever-changing retail environment," he says.
Gates, meanwhile, is most pleased with the company's ability to make Dynacraft a fun place to work. "If we're going to be at work all day every day, we might as well have fun."