E-Com Site Farfetch Raises $66 million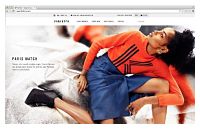 May 2, 2014 – Vitruvian Partners has led a $66 million Series D round of investment in Farfetch, the global e-commerce site for independent boutiques. Farfetch's existing investors Condé Nast International and Advent Ventures also participated in the round, alongside new investor Richard Chen, Venture Partner at Chinese VC firm Ceyuan.
"The Farfetch platform enables, the world's leading fashion boutiques to present the largest range of premium luxury brands and carefully curated products available in the market today," Managing Partner of Vitruvian Partners Mike Risman says. "With an international omni-channel service capability and excellent product availability on coveted fashion items, Farfetch's ability to serve the luxury consumer is unique. The growth of Farfetch, and the brands and boutiques it serves, has been very impressive as a result. We are delighted to have this opportunity to partner with a first-class entrepreneurial team and investor group. We trust that our investment will give Farfetch a very strong financial platform for its development plans."
The equity will be used to continue Farfetch's rapid growth, through building out the company's global presence, further investment in technology and to develop the organization's unique omni-channel offering.
With annual sales of $275 million and year-on-year growth of 100%, a network of 300 global boutiques with over 1,000 outlets offering 105,000 highly curated products from the world's best luxury labels, Farfetch is in a powerful position to expand its global footprint.
"This round of investment will help fuel a number of our key strategic goals including facilitating our omni-channel proposition, escalating the development of local language sites for key new markets (Russia, Japan, China) and accelerating engineering developments to help facilitate a dynamic responsive experience," Founder and Chief Executive Officer of Farfetch José Neves says.