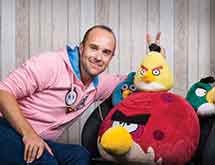 E3 is the world's premier trade show for computer, video games and mobile games and related products. That's why, when the doors of the Los Angeles Convention Center open on June 16-18, we here at Rovio will the lining up with the masses hoping to connect with the tens of thousands of the best, brightest and most innovative professionals in the interactive entertainment industry.
Gaming has evolved greatly in recent years. The rise of mobile gaming means that everyone is now a gamer (2.8 billion downloads of our mobile game sensation Angry Birds attests to this) and E3 has emerged as the must attend global event for the entire industry – regardless of what console or device you are creating for.
This year we head to the show with an open mind and a huge appetite for the groundbreaking new technologies and never-before-seen products that will debut. Our ears will be pricked for the big announcements as all the major players battle for share of voice. Indeed we might even make one ourselves capitalizing upon the huge attendance of media and industry influencers who attend the show.
In a company first, we'll also be leveraging the power of E3 to host an industry event for Plunder Pirates, one of the most popular mobile games from our publishing division Rovio Stars. Currently riding high on the top of its genre, Plunder Pirates has received fantastic support from the gaming community and top YouTube content creators. Their feedback has been used to make new game changing features that will be unveiled at the event in front of an audience that will include the YouTubers who have been central to the continual development of the game.
Like Rovio, E3 continues to evolve and grow. It has embraced the technological revolution with open arms and as a result the show is more dynamic and exciting every year.
And like us, E3 and its exhibitors are more consumer centric than ever. We're listening and reacting upon the feedback that we receive and in many cases actively seeking it, knowing that while we're good this year, next year we have to be even better.