Earth Day: Promoting Green Initiatives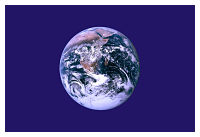 April 22, 2014 – As today marks the 44th-annual Earth Day observance, it is no surprise that many companies are taking this opportunity to promote their sustainability initiatives. From Tim Hortons to Kroger and beyond, the eco-friendly message is clearly a major part of positioning many brands. Here is a look at just a few of the companies that are touting their "green" thumbs today.
Tim Hortons today announced a new initiative to replace all existing lighting fixtures in restaurants across Canada and the United States with energy-efficient light-emitting diode (LED) lighting from Royal Philips. They will feature energy-efficient Philips LED fixtures, which use up to 40 per cent less energy than fluorescent bulbs while providing light for a minimum of 50,000 hours.
"Switching to LED lighting is an easy way to save energy while improving the light quality and atmosphere in our restaurants to ensure the best possible guest experience," said John Macey, Manager, Sustainable Design, Tim Hortons Inc.
The Alba Botanica sunscreen brand is using Earth Day to urge consumers to use biodegradable, reef-safe, mineral-based sunscreen formulas. Alba Botanica sunscreens are biodegradable and feature no parabens, phthalates, artificial colors, oxybenzone or PABA. Coinciding with this message, Alba Botanica announced the addition of a new sunscreen to its collection, the Very Emollient Sunscreen Sport Mineral SPF 45.
Kroger is inviting customers to celebrate Earth Day by promoting a video series designed to inform customers about the company's work to source sustainable seafood. Kroger has a strategy for responsibly-sourced seafood that was developed in partnership with the World Wildlife Fund. This strategy is explored in a three-part video series that Kroger has been sharing through social media during the past two weeks.
"We know that our customers value our commitment to sourcing sustainable seafood," said Suzanne Lindsay-Walker, Kroger's director of sustainability. "We continue to work with fisheries and our supplier partners to ensure that Kroger's seafood is fresh, delicious and available for future generations."
Bulbs.com announced that it is offering an Earth Day promotion for customers to receive two 60W equivalent LED light bulbs and a reusable tote bag with the purchase of $200 or more from April 22-27.
Entenmann's Bakery announced a partnership with TerraCycle to launch the Little Bites "Recycle…Reuse… Replenish" Fully Recyclable Lunch Earth Day awareness campaign and sweepstakes. The campaign is designed to educate consumers on how to recycle Little Bites Pouches. Entenmann's will be rewarding winners with weekly prizes including Little Bites coupons, upcycled Little Bites-branded Lunch Sacks made by TerraCycle, $25 home improvement gift cards and a $5,000 cash grand prize through a sweepstakes link on the Entenmann's Facebook page.
Bacardi announced its commitment to sustainability at its distillery in Catano, Puerto Rico, where it recently constructed three new aging warehouses using tons of recycled concrete. The project required demolition of six older structures on the 127-acre campus. Construction crews recycled the more than 2,300 tons of rubble, amounting to 150 truckloads of concrete.
Velux America announced the results of a study it commissioned, which found that homes that utilize skylights in combination with vertical windows to provide adequate levels of daylight tend to be more energy efficient.
What is important to you on Earth Day? Tell us on Twitter.