East Coast Warehouse & Distribution Corp.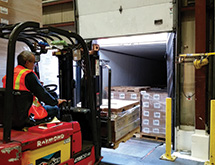 When it comes to warehousing and logistics services, East Coast Warehouse believes it's not a transaction business; rather, it's a relationship business. The New Jersey-based leader in refrigerated and ambient warehousing wants to have a close relationship with customers so they feel as if East Coast Warehouse is an extension of their own team. "We try to take away that vendor/supplier type of mentality by going above and beyond," Vice President of Sales Rich Coppola says.
East Coast Warehouse offers customers one point of contact and one point of concentration for distribution services. "We provide that one-stop shop that allows our customers to spend less administrative time on the supply chain," CEO Jamie Overley says. "We're so important to our customers and we relish and we value that relationship. We realize the responsibility we have to our customers. And that's our focus, being able to execute on that vision."
The company prides itself on its end-to-end temperature-controlled logistics solutions. East Coast Warehouse is one of the largest operations on the Port Newark-Elizabeth Marine Terminal and specializes in providing service to the food, beverage and confectionary industries. With 38 million cubic feet of temperature-controlled warehouse space between the towns of Jersey City and Elizabeth, N.J., East Coast Warehouse can collect containers from the seaport, inventory products and have them ready for outgoing orders within 48 hours. Through its in-house trucking company, Safeway, East Coast Warehouse arranges outbound distribution, including final-mile delivery to retail points.
The complete level of service has made East Coast Warehouse the sole distribution point in the United States for many of its international customers. Much of the company's business comes from overseas, particularly Europe, with 85 percent of warehouse product import-related, according to Overley.
In addition to its own facilities in New Jersey, East Coast Warehouse operates as a fourth-party logistics company by managing its clients' warehouse functions in select markets, such as Florida and California. Clients trust East Coast Warehouse to manage inventory across the country because of the company's commitment to transparency and ability to build long-term relationships. Among its top accounts, the company has worked with customers for an average of 13 years. "East Coast Warehouse serves as the preferred choice for some of the world's leading food and beverage brands," Coppola says.
Papers, Please
East Coast Warehouse made its name in the warehousing and inbound/outbound transportation segments, but much of its growth in the past three years has come from customs services – which now make up a third of the business. In 2012, East Coast Warehouse invested $8 million into facility upgrades, including a 14.5-acre area container yard for customs exam and post-exam.
As a result of the investment, U.S. Customs and Border Protection certified the seaport warehouse as a centralized customs examination station (CES). The designation allows East Coast Warehouse to host customs teams on site to speed up the inspection process and avoid disruptions in the supply chain.
Protecting food and drink products from spoiling during the sometimes-lengthy customs inspection process is critical. As a company that specializes in keeping goods fresh, East Coast Warehouse has 38 million cubic feet of temperature-controlled warehouse space. Each of its four buildings – three in Elizabeth and one in Jersey City – can go as low as 40 F or as high as 65 F, with the flexibility to cool individual areas to differing temperatures. If customs officials want to strip an entire box during an inspection the container's contents are moved to those temperature-controlled environments where they are sure to remain safe.
Temperature flexibility is important when dealing with a wide range of international customers, many of which may need their specialty products stored in specific climates. For example, one candy company last year required a 55 F area to stage 15,000 pallets of product in the lead up to Christmas.
Location, Location, Location
The Newark-Elizabeth Marine Terminal warehouse is located a half-mile from the water and its proximity is a major advantage for East Coast Warehouse, Coppola says. Aside from decreased transportation time from ship to warehouse, the company's facility sits on private roads and is not subject to the same federal weight limits as warehouses that are farther away and must be accessed by public streets.
The U.S. Department of Transportation restricts containers traveling on public roads to a maximum of 42,500 pounds. But without those limits, containers heading to East Coast Warehouse can weigh as much as 60,000 pounds, with no threat of penalties or need for special permits. Lifting the weight restriction allows East Coast Warehouse's customers to save money by maxing out container loads.
The ability to use its own trucking company to move all these containers from port to warehouse is another key advantage for East Coast Warehouse. Through Safeway, the company offers drayage service, using 120 drivers to collect as many as 300 containers from the seaport each day.
When sending shipments out for delivery, East Coast Warehouse uses a pool consolidation model. If multiple customers are shipping to the same destination, East Coast Warehouse combines volumes onto one truck, spreading the transportation costs out between clients. "It allows us to move their products across the country in a very economical fashion," Overley says.
The bulk of East Coast Warehouse's distribution is in the Northeast, where climate-controlled trucks can deliver directly to grocery distribution channels or major box stores such as Target and Walmart.
Investing in the Future
East Coast Warehouse continues to find new ways to speed up the supply chain and improve its services. Within the past six months, the company has invested in a magnetic tag from PINC solutions that acts as a GPS and tracks the location of every container on the East Coast Warehouse campus. Coppola says the technology has given employees and customers complete visibility of all containers at any given time.
Overley says the next step is to bring East Coast Warehouse's service to other regions of the country. "Our goal in five years is to double in size and have locations in port-centric areas along the east and west coasts." Prime markets could include Charleston, S.C.; Savannah, Ga.; Los Angeles and Long Beach, Calif.; Philadelphia; and Norfolk, Va. "All of those areas are potential expansion areas given our expertise in food operations and distribution," Overley adds.