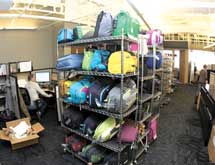 Learn how this online retailer paved its dot-com path, reaching customers through the intangible. Before Facebook gave everyone an invitation to participate in the online world, the Internet was a vast, opportunistic, yet largely anonymous playing field. And while many online retailers sought to play with its fiscal potential, few were able to fully harness its power of reaching its customers like eBags.com. How did they do it? They kept online shopping simple, and, more importantly, they kept it personal.
"We are one of the few pioneers of the dot-com era that is still left standing, and we didn't get here by accident," said Peter Cobb, co-founder and senior vice president. "We have kept a focus on our expertise in the area of luggage, handbags, backpacks, and laptop bags, and we're always looking at ways to enhance the online shopping experience for our customers."
Based in Greenwood Village, Colo., eBags was formed in 1998 by Cobb and four other executives, three of which he formally worked with at the billon-dollar luggage brand, Samsonite. With the intention of personalizing the customer's online shopping experience from the beginning, Cobb and his colleagues built the eBags site from scratch after raising $30 million in capital from respectable investors like Benchmark Capital, a company known to have also invested in eBay's beginnings.
With that validation and support, Cobb and his colleagues set out to design a site that could create a personal experience for consumers looking to purchase luggage and laptop and carry-on bags, not an easy task for a company without a brick and mortar front, said Cobb.
While the site promised the convenience of delivering its products directly from the stores to consumers, there were challenges with making the intangible seem within grasp. "The first thing we did was include as many photographs on our site as possible," said Cobb. "We featured every detail and multiple view angles of our products so customers could examine the bag the way they might if they picked it up off the shelf."
Online honesty
Although the site photos were crucial, Cobb said the true hallmark of eBags website was its customer review feature. Touching on the unique passion people have for their bags, the site soon became a popular landing spot for customers to review and rate their purchases, adding a newfound sincerity to eBags' product offerings, said Cobb.
"One of the disadvantages of going to a retail store to purchase a piece of luggage is the sales people may be inclined to push a particular brand in exchange for incentives," said Cobb. "On eBags, there is no motivation from the consumer to deliver anything but an honest review on one of our products. You can search by negative reviews if you desire. Our goal is to have customers help each other make decisions about purchasing our products, and judging by the fact that we have more than 2 million customer reviews on eBags.com, we have been successful."
Since building the eBags site, the team has met and exceed that goal. While other dot-com retailers crashed under the weight of their own haste and ill-faded site templates during the dot-bomb period, eBags stayed strong. Consumers were drawn to the site because they liked voicing their opinions and, moreover, trusted the purchase approval from their peers, said Cobb.
Although the online retailer dabbled in other market sectors, purchasing a shoe site called Shoedini, which it later sold to Zappos, the company has kept its main focus on where it's been most successful. "All too often, people trying to start any business spread themselves too thin by going in too many different directions," said Cobb. "When you do that, you lose your expertise in the area that inspired your business in the first place. We learned that lesson early."
Sticking to bags didn't mean eBags couldn't and wouldn't expand its inventory. Starting primarily with luggage, the company currently features more than 550 brand-name bags, including designer handbags, travel accessories, sport duffels, and backpacks. Growing and maintaining the company's brand presence is part of what has made the company strong, and it's have done it without having to own a lot of inventory, said Cobb.
"We built our business operations around a drop-shipping model," said Cobb. "It's not only helped us stay strong during tough times and optimize our brand offering, but it's also helped us add another element of honesty to our product offering; we don't have to feature inventory we have to sell at discounted prices to move. Instead, we can feature our top-performing products based on sales and reviews."
Personal potential
Although ingenuity gave eBags a strong start, the company is now devising ways to stay ahead in this now competitive marketplace. Powerful online entities like Google and Facebook are gearing up to form their own e-commerce ventures, but Cobb remains confident in eBags' personal and focused approach.
"We are enhancing the features that made our site popular in the first place," he said. "In addition to making our photos larger, we feature videos outlining the use of many of our products, and we have invested in site technology that lets us personalize each shopper's page. By tracking click and purchase history, every person's eBags shopping experience is different, featuring products we feel will appeal to their preferences."
As one of the early sites that started consumer conversation, eBags is now joining one of the newest and largest outlets for that by integrating its online features with Facebook. Shoppers can "like" videos featuring eBags selections, which then post to their Facebook walls for friendly viewing and sharing. Opportunities like that keep this online retailer's potential untapped, said Cobb.
"Some think the online retail environment has maximized its potential already," said Cobb. "But we know how far we've come and that we've built a strong foundation to get here. And who knows how far we can go? As technology keeps changing, so do our possibilities. Right now, those seem endless."