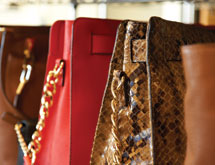 Not many of the early-to-market online retailers can boast the level of success that eBags.com has seen. Founded in 1998 and launched live in 1999, eBags says it has grown into the largest online retailer of bags and accessories in the world by offering options to suit any need and lifestyle and providing superior customer service.
"Our mission is to enrich customer's lives and journeys with the perfect bag," President and COO Robert Cassidy says. "We fit their needs at their desired price point."
Based outside of Denver in Greenwood Village, Colo., eBags.com was founded by four individuals who had worked for many years at Samsonite. Today, eBags has a product offering that includes more than 500 brands and more than 55,000 bags. It also operates Handbags.com and the eBags corporate sales site, and it has its own private-label products sold under The eBags Brand moniker.
The company offers free returns, competitive pricing and real-time order tracking, and live customer service representatives are available for personal assistance when needed. Among its premium and popular brand offerings are Samsonite, Michael Kors, The North Face and TUMI. Its selection of products ranges from backpacks and carry-ons to computer cases and handbags.
"We offer every travel and fashion category because luggage isn't a high-frequency item," Cassidy says. "People may go several years between luggage purchases, but according to our surveys, our average customer's household has over 20 bags inside it, including seven handbags. We think broadly about how we enhance the customer's life with our assortment. Then we stay focused on making that buying journey simple and fun; we ask how can we take the hassle out of their purchase?"
The Right Moves
One of the ways eBags found success was in adopting a drop-shipping model early in its existence. This allowed the company to establish strong ties with brands, reduce inventory risk and expand its assortment.
"Relationships with our brands are really important, and we approach them like a true partnership," Cassidy says. "We make it easy for them to work with us. We can be early adopters of their new product platforms and colors to help the brand get early market reads on what works for customers and what doesn't."
Since its beginning, eBags has sought to develop an interactive relationship with its customers. The company has worked hard to understand its customers, their interests and how and why they travel. It also encourages customer reviews on its website. In fact, the company has about 2.7 million customer reviews on its site.
"We have a huge and passionate traveler community; we are fortunate to be able to tap into this with a very high response rate to product review requests. We get a lot of valuable details from the reviews," Cassidy says. "We keep them unbiased because even bad reviews inform the customers while they are making their decisions. We ask them to score products on the durability, price value, organization and appearance of a product, and they can give likelihood to recommend rating. All of this provides us with measurable quality and satisfaction information on the products and brands we carry."
Another key to the company's success has been its continued investment in its own web platform. Rather than using an off-the-shelf system for its core pages and functionality, eBags.com operates on an in-house platform that is only supplemented by off-the-shelf components. The company feels an in-house architecture and platform gives it an enhanced ability to be nimble.
In 2010, eBags invested in numerous enhancements including pricing automation, navigation and underlying code, making their systems and refinements more relevant and flexible. The company has also been investing in adaptive page designs for display on mobile devices. This has helped eBags realize significant conversion rate improvement on smartphones and tablets.
"We wouldn't have been able to realize the flexibility and growth without our own platform," Cassidy says. "It has allowed us to deliver a unique and specialized user experience."
Staying Nimble
The eBags story has thus far been of a company that has more than weathered the early storm of the online retailing world. It the survived the bursting of the dot-com bubble in 2000, as well as the hits to the economy such as the recession of 2001, the 9/11 terror attacks and the recession that began in 2007. To ensure a prosperous future, the company must continue to demonstrate an ability to adapt.
Fortunately, it already has the brands and SKUs its customers want. It has also been successful selling The eBags Brand line through eBags.com, as well as through other online mass retailers. The company understands that it must find the right mix of free and paid ad traffic online to help with customer acquisition, and it must ensure it has an active presence on social media. It also has its own studio where it improves the customer experience by producing informative videos and shooting 360-degree images of many SKUs.
"We grew up marketing to pixels and now we have to market to people," Cassidy says. "It is a rigorous analytical exercise, but effectively finding those people who really need your product is essential to growth. We need to know how and when they are making their purchasing decisions. Response can be huge if you get in the right places at the right times. As the marketing opportunities become more fragmented and vast, we have to constantly work to meet them where the customers are."
It can be easy to forget that the world of online retailing is really still in its infancy. As a category, roughly 93 percent of luggage and bags is still purchased in a brick and mortar store. That number is likely to change as more purchase decisions are made online, and eBags has a lot of opportunity for growth as long as it can provide perfect bags and deliver on customer expectations.
"Our platform and experience will help us to capture customers as they browse and price-compare because we allow people to comfortably do online what they would do naturally in stores, and provide vast improvements in selection," Cassidy says.