Edens Announces Winners Of Inaugural Retail Challenge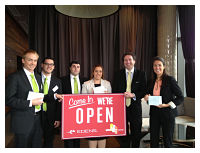 Feb. 4, 2013 – Edens, one of the nation's largest retail real estate developers, announced today that Team Aroma led by Alex Lowe and Team Follain led by Tara Foley won the first Edens Retail Challenge. Aroma is a specialty retail concept featuring premium coffee roasted in-store and providing an educational experience while Follain is a skincare retail concept offering healthy, effective and local skincare. Each team won $10,000 and the chance to bring their retail concept to life. The winners were announced during the smART: The Art of Retail Conference, which is taking place through February 5, 2013, at the Gansevoort Park Avenue Hotel in New York City.
The Edens Retail Challenge is a nationwide competition seeking the most innovative entrepreneurs and the next, best retail concept. The top three retail concepts from around the country were chosen by a panel of judges, and competed at Nationals on February 3, 2013 in New York City. All teams that made it to the finals in New York received $3,500.
The Edens Retail Challenge is being sponsored in conjunction with smART: The Art of Retail Conference, which was created as a vehicle by which small business owners from around the country could learn from some of the most innovative, creative and successful business minds in the industry today.