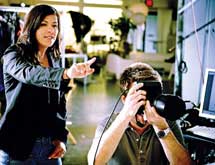 This e-commerce provider maintains a flexible and entrepreneurial atmosphere, enabling its clients to stay at the fore of consumer minds. Despite fewer shopaholics hitting the malls these days, many of the brands eFashionSolutions work with, including Apple Bottoms, created by hip-hop icon Nelly; Beyonce's Dereon line; and juniors' fashion label Mandee; continue to see double-digit increases in brand recognition.
It's not that eFashionSolutions has cast a spell on consumers; it's that the fashion and design e-commerce organization has figured out how to get them interested in what its clients are selling by focusing on behavioral targeting. "Part of the growth is due to consumers getting more comfortable with e-commerce," said CEO Ed Foy. "But our merchandising systems are the number one reason our clients in particular are seeing more brand recognition."
Most of eFashionSolutions' clients are vendors that sell to retailers. So before venturing into improving the behind-the-scenes software, the company must focus on making its clients comfortable with becoming e-retailers and using their Web sites to sell their brand and their merchandise. This includes getting clients comfortable with merchandise management.
"We have a comprehensive Web-based merchandising system that helps our clients comfortably receive more merchandise," said Foy. "Our goal is to get averages-per-SKU up in any given season by opening up the average units per style or per color."
To convince clients to expand in such a way, eFashionSolutions uses search engine optimization, behavioral targeting, and e-mail marketing together with its clients to fully leverage social media opportunities. And because the management team is thick with industry experience, including past lives with companies such as Macy's, Nordstrom, Coach, Calvin Klein, and Tommy Hilfiger, the systems at eFashionSolutions were developed out of an obvious need.
"We took what we wished we had from a reporting point of view and built it with a team of talented engineers," said Foy.
A piece of the company's inhouse behavioral targeting tool is called eFS 3.0, what Foy describes as a filtering process that makes it easier for a consumer to find what s/he is looking for.
"If I'm a size 12 foot and I've shopped shoes on your site before, why am I getting presentations that aren't available in my size," Foy asked. "EFS 3.0 is about cutting out the noise you regularly see on Web sites that have nothing to do with you."
Although eFS 3.0 had been a vision for a number of years, it wasn't until the fourth quarter of 2008 that eFashionSolutions rolled it out. The challenge with the economy has been getting enough inventory to support the business demand for clients while also balancing the potential for retailers to cancel their orders.
"It's a tough market today," said Foy. "That means now is the time to get aggressive on the one-to-one marketing."
Rhythm of action
Foy and his wife were named as finalists for the 2009 Ernst & Young Entrepreneur of the Year Award, which recognizes success in the areas of innovation, financial performance, and personal commitment to businesses and communities. One reason Foy believes he and his wife were considered for the award was the company-wide implementation of a leadership program called Rhythm of Action.
The management team identified a tough economy was ahead, but it was still staffed to accommodate tremendous growth. It became clear that efficiencies needed to be put into place. After reviewing the company's operations, Foy and his management team discovered enough redundancies that they needed to do more than simply streamline its staffing numbers.
"We were repeating actions in response to clients not clearly stating their objectives or their conditions of satisfaction," said Foy. "You can control those elements only when you can control your internal communication; if you can't communicate effectively internally, you will never understand your clients."
Rhythm of Action was instituted as a way to get managers and their subordinates to stand up and become leaders rather than following the status quo. Foy also wanted his managers to be as comfortable accepting criticism from their teammates as he was. Once that challenge was tackled, the group moved onto efficient communication.
"Communication is difficult, and people don't interpret things in the same way," said Foy. "By learning how to be more specific when talking with our co-workers and clients, we've increased our efficiency, and we're getting more work done."
This type of open corporate structure works best for eFashionSolutions' clients because it empowers employees to be the decisionmakers. The ability to take charge and lead with an entrepreneurial spirit is a must for anyone wanting to work at the company.
"That structure of empowerment helps our clients because they are always talking to a decisionmaker," Foy said. "Clients always have someone in the room who can put a plan into action without having to cut through a lot of red tape."
Coupled with eFashionSolutions' proprietary technology, which enables the company to keep tabs on and share information with its clients on a day-to-day basis, the company has positioned itself to successfully tackle the constant flux of consumer opinions and the changing tide of e-commerce possibilities. "We have a staff of bright, energetic, entrepreneurial-type spirits in charge of our technical infrastructure and interactive and marketing teams that find new ways to take e-commerce to the next level," said Foy. "That means our clients can rely on us 100%."