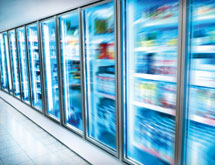 Companies exist to provide goods to consumers and to turn a profit from that, but that isn't necessarily what drives them all. For Elevation Brands, the goal is to create lines of healthy, all natural foods in a grocery section that isn't always know for its wholesome options: the freezer aisle.
In 2010, Ian's – a line of all-natural, gluten-free and allergy-friendly foods such as chicken nuggets, sweet potato fries, pizza and breakfast options – merged with Blue Horizon Wild – a value-added seafood manufacturer that uses sustainably caught seafood – and formed Elevation Brands LLC. Blue Horizon Wild moved all of its production into Ian's Framingham, Mass., plant, and the two brands formed one mission.
Apart, both companies had already proven to be leaders in their fields. Ian's produces 30 all-natural, allergy-friendly versions of favorite foods, giving children and adults whose diets are severely restricted by food allergies and Celiac disease the ability to enjoy the same foods as their friends and families.
Blue Horizon Wild uses only sustainably sourced, wild caught fish and shellfish in its value-added frozen seafood entrees, sides and snacks. The company's award-winning Alaskan Salmon Burger is just one example of how Blue Horizon Wild gives consumers the products they want while helping to protect the world's oceans.
Together, the two companies form Elevation Brands, an operation determined to make the world a better, healthier place by bringing mission-driven foods to the table. The company sources, manufactures and markets products that help solve common environmental, sustainability and health issues.
Elevation Brands provides all operations, manufacturing, sales and marketing activities for both Ian's and Blue Horizon Wild, but the brands continue to be marketed as distinct consumer brands.
"At Elevation Brands, which now is the umbrella company, our mission is to provide individual consumers the power to influence the health and wellness of their families and the world we share," CEO Chuck Marble explains. "It's a very mission-driven company. We have Blue Horizon Wild which is going to be the leading provider of sustainably sourced, value-added seafood, and Ian's brand pioneering the allergy-friendly market, including intolerances, therefore capturing growth in the gluten-free market."
The brands respond to the consumers' increasing awareness of what it takes to make food and how those processes affect their bodies and the world. Despite the economy, many are willing to pay a bit more to ensure the wellness of themselves and the environment. Elevation Brands is among food manufacturers today that provide that option, and Marble explains that both Ian's and Blue Horizon Wild are on track to reach an even wider audience.
Ian's, which already has wide North American distribution in health food stores and conventional grocery stores, is undergoing a packaging redesign to refresh its early 2000s look.
The company hasn't revealed anything yet, but Marble says it has reviewed some promising prototypes. "We will be appealing not only to kids but to people of all ages," he says. "One out of 12 kids have food allergies but adult-onset allergies are also growing and Ian's is a leading provider of high-quality natural foods that consumers can trust."
As Ian's revamps its look, Blue Horizon Wild is expanding its product line. The label already has an extensive list of bites, burgers, strips and sticks featuring crab, lobster, tuna, salmon and clam that adhere to the Monterey Bay Aquarium Seafood Watch program – which provides a list of non-sustainable seafood to avoid.
In January, the brand will add new entrees to complement its redesigned North Atlantic Lobster Mac & Cheese, now with a tastier recipe and more lobster. The new entrees include a shrimp and scallop pasta bake, shrimp pad thai, shrimp penne alla vodka and seafood cannelloni.
"With Blue Horizon Wild, we are relaunching the brand and are very excited about the single-serve entrees which will allow new people to taste our high-quality seafood items that are wild-caught [and] sustainable," Marble says. "Blue Horizon has great potential to capture the seafood market and truly become the leading company in the sustainable seafood category in the next couple of years."
Consolidated Effort
Marble is confident in the growth potential of both brands due to working closely with the product. Rather than using third-parties to produce its foods, Elevation Brands controls the entire process in-house.
"One of the greatest strengths we have is our manufacturing facility," Marble says. "Having that control is great. We don't want to rely on someone else to make our product. We can design, develop and roll them out right here and that says a lot for the quality of our product."
Though Elevation Brands boasts control over its manufacturing, the company realizes the first step in any great recipe is the right ingredients. Ian's and Blue Horizon Wild have succeeded on not only the final product, but on all the steps it took to get there.
Consumers might search the ingredients lists of Ian's products for what they don't want as well as what they do want. All of its products avoid artificial flavors, trans-fat, antibiotics, bleached flours, hydrogenated oils, refined sugars, hormones and tripolyphosphates. It has more than 20 allergy-friendly products that lack ingredients such as gluten, wheat, soy, nuts, eggs and milk. Many of its all-natural selections are kosher, organic, vegan and vegetarian, and its fish products use Marine Stewardship Council-certified Alaskan pollack.
"We look forward to providing innovative solutions for those with food allergies and we're excited to provide products to consumers that normally wouldn't be able to eat those foods, such as chicken nuggets," Marble says. "We are able to give them an all-nature food they can trust."
Blue Horizon Wild meanwhile stays true to its name by purchasing only wild-caught fish that swam free in their natural habitats and fed on nutrient-rich natural diets. They lack the antibiotics, hormones and coloring dyes used in some aquaculture farms. The company knows exactly where its product comes from – Alaskan salmon, albacore tuna from Hawaii, Jonah crab off the New England Coast, North Atlantic lobster, Atlantic surf clams and Alaskan pollack.
"Blue Horizon has tremendous potential," Marble says. "We are one of the few companies that approaches seafood product the way we do. Many value-added seafood producers source one species and focus on one species, like lobster or crab. But our brand specializes in all types of seafood. We have tremendous opportunity to be the premier value-added seafood provider very quickly."