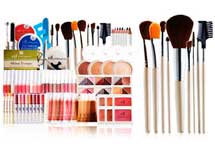 A robust Internet strategy and a commitment to low costs sets this cosmetic company apart from the competition. Forward thinking has helped ELF Cosmetics grow to become a $20 million company in just four years. Led by CEO Joey Shamah, the company is an example of the start-up of the future, which relies on the Internet to move quickly but supports the virtual business with innovative retail strategies.
ELF is a cosmetics manufacturer that sells most of its products for $1 each. The company started with just 13 makeup products but has since developed more than 300 product SKUs that include gift sets, bath products, professional tools, and mineral-based makeups.
"Obviously, we couldn't keep more involved products like those under $1," said Shamah, "but we still offer an incredible value over our competition, and that is what this brand is about: giving consumers the ability to have fun and shop until they drop without breaking the bank."
The products are manufactured overseas and distributed through retailers around the country, but as much as 30% of ELF's business comes from its Web site. Originally, the company planned on using a Web site as a way to showcase the brand, but that design couldn't handle the tremendous buzz the products generated early on.
Glamour magazine wanted to feature one of ELF's products but couldn't unless that product was nationally available for Glamour's nearly 2 million readers to buy. Shamah and his team went to work and launched the ELF Web site as an e-commerce site in 2004.
"That Web site enabled us to look like a national player, when we had just arrived on the scene," said Shamah. "It was just a few of us working out of an office, but our high quality products were earning so many positive reviews that no one could tell."
Multi-faceted tool
In the last year or so, the Web site has become more than a distribution channel, however. Curious consumers can create a profile, publish and comment blogs, peruse a beauty encyclopedia, or learn how to create a featured look.
Shamah said he aims to cast ELF as a beauty authority though its Web site. Customers can sign up to receive a newsletter that covers the latest trends in cosmetics and features popular ELF and third party products. The site's 'Get the Look' section breaks down seasonal or popular styles with step-by-step instructions and the specific ELF product that look requires.
Customers can judge how a specific look will work for them, by making a beauty profile. Based on information customers enter about their skin type, hair and eye colors, and typical beauty regimen, the Web site will recommend ELF products. Creating a profile also allows customers to comment on blogs and discuss beauty tips and trends with other ELF customers.
According to Shamah, the site is hugely helpful in growing what every cosmetics developer needs: a test market. "We produce a limited quantity of a new product and put it on the site and can see in real time which products or colors are most popular. Then we can apply that information to execute a more effective complete launch," he said.
The profiles also allow ELF to target its marketing campaigns more accurately, which is important to keeping prices down. So rather than magazine or television ads, ELF sends special offers and customized recommendations to its registered customers via e-mail.
Shamah said that ELF has grown largely through word of mouth. With products selling for only $1, it's hard to find an online or offline marketing strategy that the company can afford. But he added that word of mouth advertising is far more effective at generating loyal customers.
"The truth is it's not difficult to keep the costs of our products down at one dollar. We sacrifice a little on the packaging, and we cut out the big advertising budget for a TV campaign or a spokesperson. We would rather invest that money back into our customers."
Ground support
ELF's emphasis on online development has brought the company wide recognition, but to compete with the well-established giants of the cosmetic industry, that emphasis needs the support of a smart retail strategy. Shamah explained how, from the beginning, ELF targeted unconventional retailers such as supermarkets and ladies apparel discount retailers. Both cater to the company's target demographic and carry plenty of other cosmetic brands already but provide greater opportunity to exploit impulsive purchasing habits.
At a supermarket, for example, ELF uses carefully positioned, four-tiered spinner racks full of up to 4,000 $1 lip glosses or mascaras to tempt customers to choose cosmetics rather than buying a candy bar or stick of gum. At a discount clothing store, ELF puts a fishbowl brimming with lipstick at the cash register, allowing consumers to find a color that matches the outfit they are purchasing.
Although ELF's Web site has become a valuable tool, retail sales still make up 70% of the company's business. Shamah reported that since starting these techniques 18 months ago, which are 100% incremental for retailers, the company has greatly increased retail sales, adding that the company will continue to emphasize relationships with its retail partners.
"We want to continue to make our high quality, affordable products widely available so any woman who wants to can have fun with makeup without sacrificing her budget," he concluded.