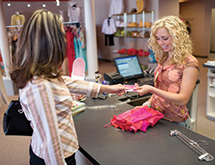 Shrink losses inflicted on retailers are widespread and staggering. According to the National Retail Federation (NRF) and University of Florida survey, "inventory shrink amounted to $44 billion in losses to retailers in 2014." How much could be attributed to internal or customer theft? The survey determined that 35 percent of shrink stemmed from employee or internal theft while customer shoplifting was responsible for 38 percent of the loss. In some years, internal theft loss has been estimated as high as 43 percent exceeding customer shoplifting losses.
Culture of Engagement
Retailers of all sizes and category are acutely aware of shrink's impact on their profit margins and are constantly working on loss prevention approaches to combat it. The first step is to create a store culture that engages employees and commits them to reducing inventory shrink. Employee engagement and alertness is fundamental to a successful loss prevention program.
But training and keeping employees engaged around loss prevention topics is not always easy. According to the Employee Engagement Study released by Gallup in January 2015, only 31 percent of U.S. employees described themselves as "engaged" with their work. The other 69 percent responded that they are either "not engaged" or "actively disengaged." The disengagement situation is actually worse for retailers who mostly hire 18-34 year old (Millennial) workers. Nearly 70 percent of Millennials surveyed said they were unengaged – an eye-opener for retailers who need their support to combat shrink. Retailers who rely on traditional forms of training to educate about loss prevention such as classroom learning and print messages are losing the battle, especially with this age group.
New Technology Approaches
Millennials are "digital natives" who grew up on smartphones and tablets. While they do not always engage with traditional training approaches like classroom instruction or printed manuals and signs, they do engage with digital, interactive communications. Smartphones and tablets have the capabilities to provide new ways to tap and engage Millennials as well as older employees who are also tech-savvy.
The use of technologies such as tablets and smartphones is imperative since these devices command the attention of Millennials who tune out print messaging. Above all, this demographic group insists upon two-way interactions rather than a top-down approach common to traditional classroom or print-based learning. Two-way communications allow for immediate feedback, which is a key component in employee engagement. Most Millennials have no issue with offering their opinions, particularly through their smart device apps.
Another communication outreach popular with Millennials and their older colleagues is social media. Leading retailers are using social media (internal, secure and curated) to encourage employees to ask questions through their devices with responses curated and securely published to appropriate employees. One retailer reported that questions on its social learning forum skyrocketed from 3,500 in May of 2014 to more than 16,500 in April 2015 – a barometer that illustrates employees are engaging with the company using secured digital forums.
Another promising technological innovation on the horizon is Augmented Reality (AR). AR uses tablets and training simulation software to enable employees to interact with the training much like an airplane pilot uses a flight simulator. But instead of multi-million dollar simulators, AR uses cheap tablets and low-cost software to create engaging and realistic on-the-floor trainings and simulations. While still in the early stages, the early indicators are that employees of all age groups respond positively to the experiential learning that AR provides.
Another digital technology used by leading retailers is digital signage in break rooms to engage employees with short burst trainings and tips on effective loss prevention tactics and reminders.
Digital Communications
A major retail department store chain recently focused on loss prevention in its 100 highest-risk stores. By leveraging digital communications, the company cut shrink and reported an "18:1 return on investment" during a 10-month period. A regional grocery chain reported a 139 percent increase in associate theft resolution.
Mike Limauro, vice president of asset protection for Weis Markets, can attest to the benefits of engagement through technology. Weis operates 163 stores in five Eastern states and employs more than 18,000. "When we went digital, we found that we could make training fun and engage our associates," Limauro says. Weis relied on "multiple touch points" combining digital and print to get messages across to its associates. "People respond to different things and that is why multiple touch points are important," Limauro says, noting the results speak for themselves. "Our shrink has declined by 17 percent this year, while internal and external case resolution continues to improve year over year, and (use of) our associate hotline was up more than 200 percent in the first month of the program," he says.
Limauro reported another positive aspect of this approach is that employees are not hesitant to notify managers about thefts by fellow associates. "We've given them the tools to do the right thing and our associates appreciate it," he says. "It's how you embed asset protection (into store culture)."
As the experiences at Weis and other retailers demonstrate, emerging technologies require a comprehensive strategy for their use in the war against shrink. When strategically implemented, they have proven successful. The successes indicate the use of smart and interactive technology to communicate with and ultimately engage front-line employees will continue to grow. So will the number of retailers who take advantage of it. O
Ric Agostini is vice president of communications of Catalyst Awareness, a division of Alchemy Systems. Catalyst Awareness designs integrated loss prevention and workplace safety programs for leading general, home improvement, food and specialty retailers. Agostini can be reached at 866- 749-3697.