Entenmann's, The Salvation Army Tackle National Donut Day With Super Bowl Champion/N.J. Native Victor Cruz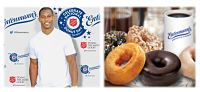 May 31, 2013 – Entenmann's, a Bimbo Bakeries USA company, and The Salvation Army get ready to tackle the 76th National Donut Day (#NationalDonutDay) on Friday, June 7, 2013. One of Entenmann's most recognized donut fans, Super Bowl Champion and New Jersey native Victor Cruz is helping to spread the word about this delicious holiday. The Salvation Army and Entenmann's Bakery will celebrate National Donut Day through their continued partnership for a third consecutive year.
"I grew up on Entenmann's donuts right across the river in New Jersey and to this day always have a box of Entenmann's Crumb Topped donuts in the house," said Victor Cruz, celebrity ambassador for Entenmann's and National Donut Day. "It really is an honor to be recognized as such a big Entenmann's fan, while honoring The Salvation Army on their very special day."
The holiday, held annually on the first Friday of June, was established by The Salvation Army in 1938 in Chicago to honor the "Donut Lassies" who served these treats to soldiers during World War I and to help raise needed funds during the Great Depression. This significant occasion established the donut as a long-standing symbol of the services The Salvation Army continues to provide.
Entenmann's, with donut bakeries in Carlisle, Penn. and Montebello, Calif., produce more than 780 million donuts a year, which equates to 15 million donuts a week and more than 100,000 donuts every hour to keep up with the demands of Entenmann's donut lovers nationwide. For every new "Like" on Entenmann's Facebook page from May 1 to June 15 the company will donate $1 to The Salvation Army, up to $30,000. Fans can also enter to win 'Free Donuts for a Year' and additional prizes through a sweepstakes link on the Entenmann's Facebook page. All entries must be received by 11:59: p.m. ET on June 30, 2013. Winners will be randomly selected from all submissions. Official Rules can be found at www.entenmanns.com.
"We want to thank Entenmann's for partnering again with us this year to celebrate National Donut Day and help us serve those in need," said Major Ron Busroe, National Community Relations and Development Secretary for The Salvation Army. "Every year on National Donut Day, The Salvation Army asks the public to remember those less fortunate who struggle to make ends meet. So, for everyone who enjoys a tasty donut in celebration, please take a minute to consider ways to give back in your community."