"We have an Air Force base in Dayton, so there are people who are transferred here for several years and learn about the hometown staple of Esther Price," Accountant Peggy Weaver says.
Every region of the United States seems to have at least one candy company that its residents think is the best. Esther Price began making chocolates at home for her co-workers at a downtown department store in Dayton. When she started her family with her husband in 1926, her co-workers urged her to make candy for them at home. She continued with this home business until 1952, when she opened her first store on Wayne Avenue in Dayton. That store is still at the company's headquarters, which has been expanded substantially since then to handle increased production.
"We have a lot of competition as far as people from different parts saying their candy is the best," Day relates. "So they trade it, and we always hear that Esther Price comes out on top."
One of the reasons for that is the ingredients. "We use all pure, natural ingredients," Day emphasizes. "We use pure 40 percent butterfat cream and Swiss chocolate and no preservatives. We make it the same way Esther made it for over 90 years, and we have a reputation for it here." That reputation has been bolstered by its being voted for several years as Ohio's best-made candy by the readers of Ohio magazine.
Another reason for Esther Price Candies' success is not only the recipes that are used but the candies' value. "Our pricing is less expensive than most competitors," Weaver maintains. "Nobody has a candy made like ours that is anywhere close to our retail price because we're competitive with even some of the cheaper candy that's made."
Hand-Made Chocolates
Many of the candy-making techniques that Esther Price developed are still being used at the company. "We do a lot of handwork to keep our product the same as since Esther had it," Day says. That hand work produces candy in different sizes, which necessitates hand packing, because automated packing requires consistent sizes.
An innovative product the company has introduced takes advantage of the craft beer trend by combining ale from Warped Wing Brewing Co. in Dayton with Esther Price peanut brittle to create Beer Brittle. This year, Esther Price Candies partnered with Warped Wing to provide its dark chocolate for a limited-edition chocolate stout called Esther's Little Secret.
In 2014, Esther Price Candies provided its caramel for a limited edition caramel beer. The Esther's Little Secret line of dessert brews are sold on tap locally and in cans until they are sold out. "We only make a certain amount of it, so we do run out," Day notes. "Last year, we made a caramel beer, and they sold out in almost five days. We made quite a bit more this year of the chocolate beer, but we sold out in two weeks."
"When it's gone, it's gone," Weaver stresses. Esther Price and Warped Wing intend to offer a series of such beers each holiday season. Next year's ingredient is a closely guarded secret until its release.
Esther Price Candies utilizes television, radio and social media for advertising, but finds its word-of-mouth recommendations from customers most valuable. "If they taste it, they'll buy it," Day says. The company also does sampling in theaters, at home shows and in regions it is new to, such as Louisville and Nashville.
Esther Price Candies are sold in Kroger grocery stores throughout Ohio, portions of Illinois and Indiana and in sections of Kentucky and Tennessee within a 50-mile radius of Dayton and Cincinnati. The company also ships its products throughout North America and increases its online business – which it began in 1999 – approximately 10 percent annually compared with in-store sales.
A big marketing event this year is the 90-second shopping spree for one lucky person whose name gets drawn. Anyone who comes into an Esther Price store or submits an entry online is eligible for the drawing.
"We're going to do one local person and one non-local person," Weaver explains. "Whatever the local person grabs in 90 seconds, the non-local person will receive the same thing. We have so many customers that live out of our local area that we thought it was fair to give them a shot, as well."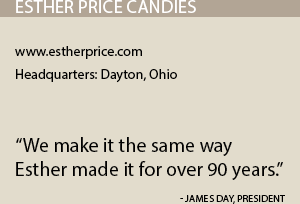 Tie a Red Ribbon
A distinctive feature of Esther Price Candies are the ones that are sold in gold boxes with red ribbons hand-tied around them. For the company's 16-ounce boxes – its most popular – the company is automating the ribbon-tying process with a robot, which is scheduled for activation by this year's holiday season.
Esther Price Candies also is working on an upgrade of its inventory and point-of-sale software so it can provide real-time inventory ordering and marketing for all seven of the company's store locations in Dayton and Cincinnati. The mail order management software handles online ordering on the company's website and integrates customer order management into the company-wide enterprise resource planning system. The company also has recently activated a smartphone app for customers to place orders.
These production improvements are being made so the company can private-label more of its products. This would include making custom products to order for other companies from Esther Price's or the customers' own recipes.
To do that will require additional production space, for which Esther Price Candies is in the process of obtaining approval. "We've already got plans to build a big building with all the latest equipment," Day says. It would improve the operational layout by organizing manufacturing, packing, refrigerated storage and shipping into a single progression from one area to the next. The latest addition to the manufacturing operation in Dayton was of a kitchen furnished with the latest equipment that centralized addition of ingredients instead of obtaining them from several different locations.
Direct Line
Day was one of four investors who bought Esther Price Candies in 1976. "We bought it on her 50th anniversary, and I've done it for 40 years this past year," Day recalls. "My partner, Ralph Schmidt, and myself bought the other two partners out. Ralph passed away in 2006. We were friends from kids on up."
Although Day is now the majority owner and has big plans for the future of Esther Price Candies, he is not relying on himself alone to execute them. He has been joined in the business by three daughters who are on the board of directors: Marketing Director Sandy Brielmaier; Sharon McManus, who handles retail and heads donations; and Senior Store Manager Barb Dressman. Their husbands – Bruce Brielmaier, Wholesale Assistant Denny McManus and Vice-President Doug Dressman – are all on the board of directors. "I more or less steer the ship – I did everything when we started," Day remembers. "I'm 88 years old, so I'm trying to turn it over a little bit."
The name of Esther Price Candies has meant quality in Cincinnati and Dayton, Ohio, for 90 years, and through the Internet, now nationwide. By Russ Gager Home cooking is always best, and that includes home candy-making. So the tried-and-true methods of candy-making employed at Esther Price Candies – which date back to the founder's home business 90 years ago in Dayton, Ohio – keep customers coming back for more. "People from here move down to Florida, and all their relatives and friends up here send them our candy, and this happened continuously because Esther Price is one of the things we are noted for in this area and potato chips," President James Day says. "They still call and order for their friends at Christmastime, and that's why our mail order business is so strong." "We have an Air Force base in Dayton, so there are people who are transferred here for several years and learn about the hometown staple of Esther Price," Accountant Peggy Weaver says. Every region of the United States seems to have at least one candy company that its residents think is the best. Esther Price began making chocolates at home for her co-workers at a downtown department store in Dayton. When she started her family with her husband in 1926, her co-workers urged her to make candy for them at home. She continued with this home business until 1952, when she opened her first store on Wayne Avenue in Dayton. That store is still at the company's headquarters, which has been expanded substantially since then to handle increased production. "We have a lot of competition as far as people from different parts saying their candy is the best," Day relates. "So they trade it, and we always hear that Esther Price comes out on top." One of the reasons for that is the ingredients. "We use all pure, natural ingredients," Day emphasizes. "We use pure 40 percent butterfat cream and Swiss chocolate and no preservatives. We make it the same way Esther made it for over 90 years, and we have a reputation for it here." That reputation has been bolstered by its being voted for several years as Ohio's best-made candy by the readers of Ohio magazine. Another reason for Esther Price Candies' success is not only the recipes that are used but the candies' value. "Our pricing is less expensive than most competitors," Weaver maintains. "Nobody has a candy made like ours that is anywhere close to our retail price, because we're competitive with even some of the cheaper candy that's made." Hand-Made ChocolatesMany of the candy-making techniques that Esther Price developed are still being used at the company. "We do a lot of handwork to keep our product the same as since Esther had it," Day says. That hand work produces candy in different sizes, which necessitates hand packing, because automated packing requires consistent sizes. An innovative product the company has introduced takes advantage of the craft beer trend by combining ale from Warped Wing Brewing Co. in Dayton with Esther Price peanut brittle to create Beer Brittle. This year, Esther Price Candies partnered with Warped Wing to provide its dark chocolate for a limited-edition chocolate stout called Esther's Little Secret. In 2014, Esther Price Candies provided its caramel for a limited edition caramel beer. The Esther's Little Secret line of dessert brews are sold on tap locally and in cans until they are sold out. "We only make a certain amount of it, so we do run out," Day notes. "Last year, we made a caramel beer, and they sold out in almost five days. We made quite a bit more this year of the chocolate beer, but we sold out in two weeks." "When it's gone, it's gone," Weaver stresses. Esther Price and Warped Wing intend to offer a series of such beers each holiday season. Next year's ingredient is a closely guarded secret until its release. Esther Price Candies utilizes television, radio and social media for advertising, but finds its word-of-mouth recommendations from customers most valuable. "If they taste it, they'll buy it," Day says. The company also does sampling in theaters, at home shows and in regions it is new to, such as Louisville and Nashville. Esther Price Candies are sold in Kroger grocery stores throughout Ohio, portions of Illinois and Indiana, and in sections of Kentucky and Tennessee within a 50-mile radius of Dayton and Cincinnati. The company also ships its products throughout North America and increases its online business – which it began in 1999 – approximately 10 percent annually compared with in-store sales. A big marketing event this year is the 90-second shopping spree for one lucky person whose name gets drawn. Anyone who comes into an Esther Price store or submits an entry online is eligible for the drawing. "We're going to do one local person and one non-local person," Weaver explains. "Whatever the local person grabs in 90 seconds, the non-local person will receive the same thing. We have so many customers that live out of our local area that we thought it was fair to give them a shot, as well." Tie a Red RibbonA distinctive feature of Esther Price Candies are the ones that are sold in gold boxes with red ribbons hand-tied around them. For the company's 16-ounce boxes – its most popular – the company is automating the ribbon-tying process with a robot, which is scheduled for activation by this year's holiday season. Esther Price Candies also is working on an upgrade of its inventory and point-of-sale software so it can provide real-time inventory ordering and marketing for all seven of the company's store locations in Dayton and Cincinnati. The mail order management software handles online ordering on the company's website and integrates customer order management into the company-wide enterprise resource planning system. The company also has recently activated a smart phone app for customers to place orders. These production improvements are being made so the company can private-label more of its products. This would include making custom products to order for other companies from Esther Price's or the customers' own recipes. To do that will require additional production space, for which Esther Price Candies is in the process of obtaining approval. "We've already got plans to build a big building with all the latest equipment," Day says. It would improve the operational layout by organizing manufacturing, packing, refrigerated storage and shipping into a single progression from one area to the next. The latest addition to the manufacturing operation in Dayton was of a kitchen furnished with the latest equipment that centralized addition of ingredients instead of obtaining them from several different locations. Direct LineDay was one of four investors who bought Esther Price Candies in 1976. "We bought it on her 50th anniversary, and I've done it for 40 years this past year," Day recalls. "My partner, Ralph Schmidt, and myself bought the other two partners out. Ralph passed away in 2006. We were friends from kids on up." Although Day is now the majority owner and has big plans for the future of Esther Price Candies, he is not relying on himself alone to execute them. He has been joined in the business by three daughters who are on the board of directors: Marketing Director Sandy Brielmaier; Sharon McManus, who handles retail and heads donations; and Senior Store Manager Barb Dressman. Their husbands – Bruce Brielmaier, Wholesale Assistant Denny McManus and Vice-President Doug Dressman – are all on the board of directors. "I more or less steer the ship – I did everything when we started," Day remembers. "I'm 88 years old, so I'm trying to turn it over a little bit."