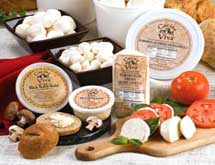 This specialty food importer and distributor survives by providing its customers with unique products and personal service. Two principles guide Trish Pohanka, director of purchasing for European Imports Ltd., through her job each day. First: the company's goal, which is to provide high-quality and unique products. Second: there is no other specialty food distributor in the marketplace that offers the breadth of products in both foodservice and retail sizes, perishable and grocery, but there is still segmented competition.
"I could not identify one competitor that offers the full breadth of what we do," she said, "but we do have direct competitors regionally that specialize in specific categories such as cheese, grocery, or foodservice, which means we need to stay on top of our markets at all times."
Beverly and Seymour Binstein founded EIL as a cheese importer in 1978. By 1984, its foodservice division had grown enough that the company was able to expand outside of Chicago. During the past nine years, the company has continued to grow through acquisitions.
In 2000, it acquired Pee Wee Imports in Phoenix, Ariz., establishing its first warehouse outside of Chicago. In 2003, it acquired Classic Gourmet out of Atlanta, Ga. In 2006, EIL acquired the Arizona division of Chef's Warehouse and in 2007 acquired Gourmet Foods International and World Delicacies, both in Dallas, Texas. Pohanka said EIL's acquisition strategy is twofold.
On one side is the desire to move into markets where it has business opportunities but without the infrastructure to service the independent accounts logistically. On the other side, EIL wants to bring in companies that mirror its core capabilities. "The company we acquired last year in California, Village Imports, had many of the same vendors we do," said Pohanka. "There wasn't a lot of change involved; it was more integrating them into our processes and procedures."
Texas, on the other hand, had always been a strong market for EIL. Pohanka said it made sense to open a warehouse in that region to reach out to smaller customers that were challenged to make the minimum purchase requirements of the Chicago warehouse.
Regional presence
Maintaining a regional presence in its strongest markets is also a better way for EIL to be the first to introduce new products to customers. "We're not afraid to be the first to market a product, which might be unique or take a little more education," said Pohanka.
EIL provides educational tools to its customers to help them reach their customers faster and on a deeper level. The company provides a monthly newsletter through which it introduces new products while telling the story behind them.
"Our customers are looking for the story behind the product," said Pohanka. "They want to pass the information on to their customers, as the specialty food consumer is well versed and eager to experiment with new products."
Many of EIL's clients' customers read publications such as Bon Appetit and Gourmet, and they stay on top of chef trends, often the place where trends in the food industry begin and lead to innovations on the retail side of food. For its retail clients, EIL offers a full marketing program that includes store demos, ads, and monthly promotions.
"In the food industry, it is essential to get the food into consumers' mouths, and that's half the battle," said Pohanka.
Area of expertise
Strong vendor relationships are an essential part of EIL's business, especially because of the company's unique distribution platform. Most distributors concentrate strictly on retail, foodservice or dry goods, but EIL offers a larger variety of goods to cover many needs.
"We rely on our vendors to partner with us to assist with marketing their products," said Pohanka. "We rely on their expertise to educate our sales staff."
The company's product selection can be broken down into four categories: cheese, meat and game, pastry ingredients, and grocery items. This variety means EIL can serve a wide customer base, from chefs to pastry departments, center-of-the-plate, or retailers.
"We sell bulk products to industrial accounts such as chocolatiers and gelato shops, as well as ingredients to manufacturers as a component in a finished good," said Pohanka.
On the other side of the business is the retail sector where the company sells everything for the grocery shelf, deli, and cheese counter. The initial move to retail came in 1993 when EIL acquired the distribution business of Charlotte Charles, which was 100% retail. "Since that time, most of our acquisitions have been foodservice distribution, with the exception of two smaller local retail distributors," said Pohanka.
"When we acquire a company, we try to hire as much staff as possible, especially if we're entering an area out of our expertise," she continued. "We see our employees as assets of the company."
Meeting the need
As the company has grown, one of its biggest challenges is maintaining the family friendly environment it started with in 1978. EIL is still owned and operated by three sons of the founding Binstein family, and each handles a different area of the business.
The company also maintains close customer contact through its inside and outside sales forces. Any time customers call into EIL, they are greeted by a human on the other end of the phone.
"Customers come to us if they want us to help source a product, and we'll do our best to fulfill their needs," said Pohanka. "We have open lines of communication from the owners down through the company; everyone is accessible to our customers."
The impression the company wants its business partners to take away from working with EIL is that of having dealt with a true partner. Whether it's having access to food that supports the newest trend or having a regional office to enable smaller purchases, Pohanka said the company and the family always has and will continue to focus on the customer.
"It's really just staying in touch with the pulse of specialty food. What's new, what's unique, and what our customers are looking for," she said. "We care about our employees, customers, vendors, and we are passionate about the specialty food industry."