Eva Mendes Debuts Spring Collection New York & Co. in Los Angeles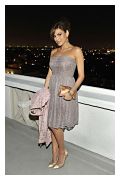 March 21, 2014 – This week, Eva Mendes celebrated the launch of her Spring Collection with two events in Los Angeles. On Tuesday, March 18th, she joined fashion editors and bloggers for a party at New York & Company's new Beverly Center pop up location. The following evening, she celebrated her new Collection with NY&C customers at the New York & Company location in Los Cerritos Center.
Select bloggers and editors were invited to the Beverly Center pop-up store launch party on March 18th, where they had the opportunity to snap photos with Eva for the in-store Instagram wall, which acted as a live-feed, displaying all photos posted with the hashtag #EvaMendesNYC. Guests also shopped the Eva Mendes spring collection while they enjoyed music provided by DJ Harley Viera Newton.
Eva Mendes and New York & Company celebrated the launch of the Eva Mendes Spring Collection with customers on March 19th, at 6pm in Los Cerritos Center. Drinks and treats were served as a DJ spun and Eva took photographs with the first 75 customers to make a purchase.
"To have the opportunity to personally meet the women who I have designed my collection for is inspiring to me and is an experience I truly appreciate," Mendes says. "These in store events engaging with real women are one of the many reasons I got into the fashion industry and partnered with New York & Company to make women look great and feel good."
"We are thrilled to announce the opening of our new pop-up shop in the Beverly Center, and even more excited to give our customers the opportunity to meet Eva," says Greg Scott, CEO of New York & Company. "Eva has really connected with the NY&C woman, which is why we know this event will be so special."