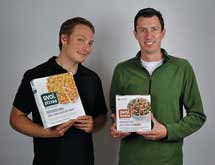 There is a food revolution unfolding in North America, and EVOL Foods is leading the charge. The producer of frozen organic pizza, handheld and entrees has pushed the junk food out of grocers' freezers since the brand's launch in 2009, and co-founder Phil Anson sees himself as more of a teacher than an entrepreneur in the food industry.
"As the face of the foodie side of the business, I want to educate people about food," he says. "I feel like our brand should embody the broader food revolution happening in America over the last 20 years. People are moving away from gums, gunks and chemicals, and are focused on simplicity and honest ingredients."
EVOL Foods' frozen products include pizzas, flatbreads, bowls, burritos, and wraps. The company's entire product line uses 100 percent all natural and organic ingredients while maintaining price points that appeal to the on-the-go consumer.
Anson has been in the food business in some capacity since he took his first restaurant job at the age of 14. After graduating from the University of Denver in 1999, Anson caught the entrepreneur bug. He began making burritos in his own kitchen to sell to rock climbers coming into a canyon, presumably famished from their latest summit.
Although that project never took off, Anson was not deterred. He moved toward legitimizing his business by building his brand, renting kitchen space and selling directly to grocers. Eventually, he gained some traction and, within four or five years, Anson was making frozen burritos on a commercial scale in his own plant.
Business Savvy
While the business was taking off, he still needed help launching his brand, Phil's Fresh Foods, on a national scale. This is when Tom Spier, the company's current CEO, stepped in. Spier had previously helped grow Bear Naked Granola from a $1 million business in 2004 to more than $35 million by 2007, the year the company was sold to Kellogg's (NYSE:K).
Two years later, as Spier was looking to reenter the business, a contact from college introduced him to Anson. Spier says he was looking for some specific traits in his next business partner, and Anson embodied those characteristics. "I knew if I was getting back into business, I wanted to get into business with a fighter," Spier explains. "Phil's a fighter."
The pair quickly brought in a third partner – Brendan Synnott, the founder of Revelry Brands – and reorganized Anson's company in 2009. EVOL Foods – "EVOL" is "love" backward – was launched later in that year.
Branding is Key
The competition for freezer space in grocery stores is fierce, and companies with products like Evol Foods' must catch consumers' eyes so grocers continue to stock their SKUs.
"Everyone is innovating, everyone is trying to maneuver and trying to beat you," according to Spier. "Our innovations are highly relevant in the gap that was the natural organic frozen foods. It's a unique whitespace we see that we're running after to be ahead of the pack."
Today, Spier claims Evol Foods is the No. 1 natural organic handheld brand with meat in the frozen category, according to Nielsen's Data ending Oct. 29, 2011. Although the re-branding of Anson's products has caught the attention of consumers, he understands that it is the taste and quality that keeps them coming back for more.
"First and foremost, we have outstanding products, and we have built a brand that resonates," Anson says. "But the actual product is outstanding to eat.
"We have created a brand that is truly differentiated and is something people can connect with," Anson adds. "We are bringing love holistically as the core of everything we do. If you have a commitment to that, people will embrace your brand. That is what has made us successful."
Growth Plans
EVOL Foods isn't just sitting back and waiting for the brand to grow on its own. Earlier this year, the company launched 11 new natural items in the conventional category.
The company also is working on its brand loyalty through a variety of specials and promotions created to generate goodwill about the company and its products. Along with maintaining a presence in a variety of social networks, including YouTube, Facebook and Twitter, the company hosts its own three-week music and ski festival at Crested Butte Mountain Resort in Colorado, Okemo Mountain Resort in Vermont and Mount Sunapee Resort in New Hampshire with the band O.A.R. as the most recent headlining act.
Earth Friendly Operations
Evol Foods takes pride in its green manufacturing operations. The company has numerous initiatives in place to ensure that it reduces its carbon footprint.
For instance, the company orders supplies beyond its average needs and stores them to cut back on freight usage. Also, EVOL Foods "rideshares" its products whenever possible to reduce consumption of natural resources, as well as sourcing product as close to its facility in Boulder as possible.
For its energy needs, EVOL Foods purchases one Wind-e Renewable Energy credit for every kilowatt hour of electricity it consumes. The company says by buying these credits, it is helping fund the installation of wind turbines in high-wind areas throughout the Midwest and West.
"So that means not making new energy, but instead investing in using existing energy, with big dreams of doing more," the company says.