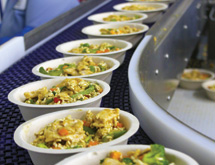 If you're going to ship a burrito nationally with a 12- to 18-month shelf life, it had better be frozen. That realization in 2005 inspired Phil Anson to start freezing the burritos he had been manufacturing since 2002 for retailers around Boulder, Colo., and it has since revolutionized the freezer cases of grocers nationwide.
EVOL is taking advantage of the movement toward natural foods and fresh products with not only burritos but gluten-free bowls and now two varieties of macaroni and cheese. The company is following its COO and founder's original company name – Phil's Fresh Foods LLC – as closely as it can and still distribute nationally. After all, frozen is closer to fresh than canned food.
"Food should taste good," Anson emphasizes. "There's no reason that people should feel ashamed of eating frozen food. It's actually a great vehicle to deliver value to consumers." Anson says EVOL's products use ingredients many consumers would find in their own pantries. "That's really reflective of some of the farm-to-table values that are more widespread in our culture and a connection with the land, connection with animals and treating them well. We want to continue to grow our distribution and at the same time grow our philosophy at our current retailers to help them grow their categories and make more money."
Anson estimates EVOL products have an ACV weighted distribution of 30 percent in the United States and are in 80 percent of natural foods stores. He calculates his company's products are carried by 7,000 to 8,000 stores, a figure that Anson estimates could be nearly 10,000 by year-end.
"There's a lot of new products coming out that touch back to our mission of engaging people through food," Anson says. "We've got some super-exciting innovations and we're super-excited to get them to our retail partners and our consumers and help our retailers grow their categories, and convince people the frozen food section can be a great place to buy convenient, outstanding food."
Mac Attack
The company's latest product is two versions of the comfort-food favorite macaroni and cheese. One has truffles and parmesan cheese in it and the other features chipotle chicken with a panko breadcrumb topping. "They're really outstanding and a reflection of our foodie values and all the excitement we see around mac and cheese," Anson asserts.
He develops new products with Andrew Jaffe, vice president of marketing, whose traditional marketing background brings professional prowess to the development process, Anson says. "Following food trends is very important to us," he insists. "We spend a lot of our time paying attention to it. A huge aspect of our business is keeping our pulse on all those trends."
The company markets its brand through the latest channels. "A lot of what we continue to do as a brand is very much a grassroots approach – boot strapping," Jaffe explains. "You'll see a lot of continued emphasis around Facebook and continuing to engage our user base there to serve as ambassadors for our brand to help spread the word about EVOL."
Sampling in stores and at lifestyle events like running races and music festivals has been an important part of the brands' growth. "On a localized level, we're continuing to refine our sampling approach," Jaffe notes. "We've invested in a 20-foot trailer that has individual ovens to go to large events and sample our products. Our sampling approach has been about aligning the brand with the right events to drive trial and awareness."
Production Expansion
With 40 percent annual growth, EVOL Foods' production has been increasing substantially. It expanded its plant in Boulder from 9,000 to 14,000 square feet and installed new production equipment at a cost of approximately $750,000. The new spiral freezer takes food on a conveyor that spirals upward for 20 to 30 minutes until the food is frozen.
"The spiral freezer allowed us to move from a batch freezing to an inline freezing process," Anson relates. "We also upgraded quite a bit of our equipment and overall processes. We've gotten automatic depositers and more fully automated packaging lines. We're running at much higher line speeds than we used to and creating a lot more volume per minute than we used to."
Formerly running on two shifts, the plant now only needs one shift. "We can make 40 to 50 percent more on a single shift than we used to on two shifts," Anson maintains. "That's a pretty dramatic change from where we were two years ago."
The plant has room for those production increases, since Anson estimates it is running at only 50 percent capacity and can accommodate a second shift. "We still have quite a bit of firepower right now," he asserts.
Although space is competitive in stores' freezer cases, Anson fights for it with a sales infrastructure set up with salespeople and brokers who meet with retailers and customers. "Our organization is constantly leveraging data-driven insights to gain incremental shelf placement," Anson asserts. "Our proven ability to bring new users to the category makes EVOL that much more relevant to retail partners. The positive performance of the brand really helps to create a compelling selling story."